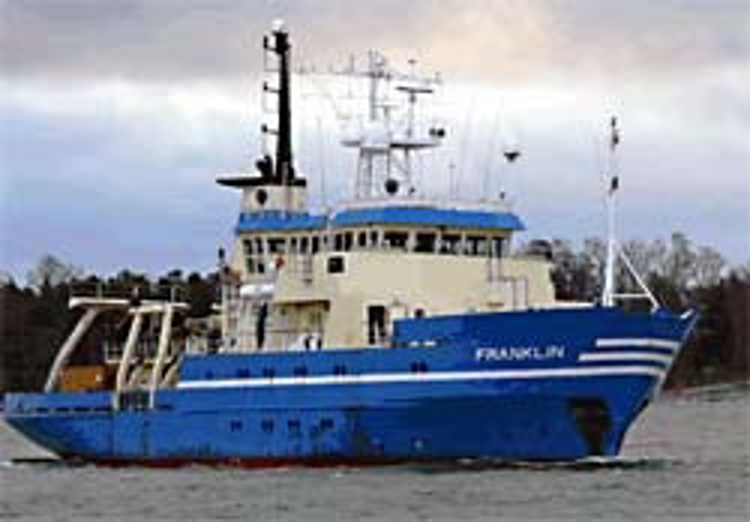 Kongsberg Maritime has completed an extensive upgrade of the research survey vessel M/V Franklin, owned by the Swedish marine survey company Marin Mätteknik AB (MMT). The upgrade will significantly prolong the vessel's lifespan.
The recently completed contract was won by Kongsberg Maritime in 2008 and comprised the installation of K-Chief 500 marine automation system, including power management and AutoChief C20 main propulsion control. As part of the upgrade, AutoChief C20 was fully integrated with TC-500 thruster control system and interfaced to the dynamic positioning system onboard. All systems delivered by Kongsberg Maritime were installed and commissioned successfully during only three weeks of dry docking at 'Gøtaverket' in Sweden.
"This is a very complex refit project because it involves most of the functions onboard the vessel. Since we only had three weeks to complete deconstruction, installation and commissioning of the vessel, a carefully planned time schedule was crucial for the success of the project. M/V Franklin is a quite small vessel, making it impossible to have too many people working onboard at the same time. This was solved efficiently by shift work by our project team," explained senior project manager in Kongsberg Maritime's refit department, Torben Marthinsen.
Lack of spare parts
The M/V Franklin is a research survey vessel, undertaking a variety of survey projects worldwide. It is one in a series of five survey and ROV vessels owned by the Gothenburg based company Marin Mätteknik AB (MMT), specialising in delivering high resolution bathymetry data. Fully equipped for seabed survey in water depths between 10 – 2000 meters, the M/V Franklin has a proven track record covering hydrographical surveys, ROV operations, geotechnical sampling, geophysical seabed mapping and environmental assignments. When spare parts for the old control cabinets were no longer available, an upgrade became crucial for the continued operation of the vessel.
"Since the purchase of M/V Franklin in 2005, MMT has planned some major upgrades. After the installation of the KONGSBERG alarm and monitoring system, and the retrofit of a KONGSBERG AutoChief C20 with thruster control and a power management system, the vessel is back at sea working on survey projects", said Fleet Development Director at MMT, Svante Johansson.
Making a superb ship even better
One special feature of this upgrade is a cruise control for improved speed management, enabling the vessel to keep a steady speed of 4-6 knots required when towing cables. Since speed was controlled manually prior to this installation, the cruise control is vital for reducing the operational costs of the vessel.
"The 'cruise control' is a very useful feature as it makes the speed control between four to six knots more precise when towing equipment" said Svante Johansson. He is confident that the upgrade is a good investment: "This upgrade will prolong the lifetime and improve the performance of M/V Franklin. With these new investments, we have made a superb ship even better."
KONGSBERG a preferred vendor
The survey equipment onboard the M/V Franklin is also partly from KONGSBERG. In 2007 they retrofitted a gondola mounted EM 710 multibeam echo sounder. This is a very high resolution seabed mapping system capable of meeting all relevant survey standards.