Kongsberg Maritime's K-Master integrated aft bridge workstation will be shown to the offshore industry at the forthcoming Offshore Europe exhibition in Aberdeen, 8th - 11th September 2009. Alongside this new system, Kongsberg Maritime will also highlight its product portfolio for offshore vessels, which includes the VMM 200, a unique new Vessel Motion Monitoring solution.
K-Master
K-Master, which was unveiled at Nor-Shipping 2009 in June, is an exciting new integrated aft bridge workstation, which in an industry first combines navigation, control and manoeuvring as well as machinery automation functions in one sophisticated solution. It provides access to all major control systems through a unique, ergonomic design that significantly improves the safety and efficiency of offshore operations.
K-Master is a complete and independent operating station designed to meet strict aft bridge ergonomic considerations regarding the arrangement of working environment, instrumentation and the operability of the equipment itself. The operator sits in a comfortable, high quality chair enabling him to operate within easy reach interactive interfaces for: Dynamic Positioning (DP), independent DP joystick, manual thrust control, vessel automation, central bridge alarm system, chart radar, conning display and communication devices.
"K-Master consolidates the traditional five or six meter bridge console into literally one operator's chair, which houses integrated multiple computer consoles in the arm rests and touch-screens with split-screen interfaces. Total ship operation takes place from this chair, with the main information displays close to the seated operator, making the intense nature of ship operation on the aft bridge a more comfortable and less stressful situation," says Thor Hukkelås, Chief Engineer and project head for the K-Master.
VMM 200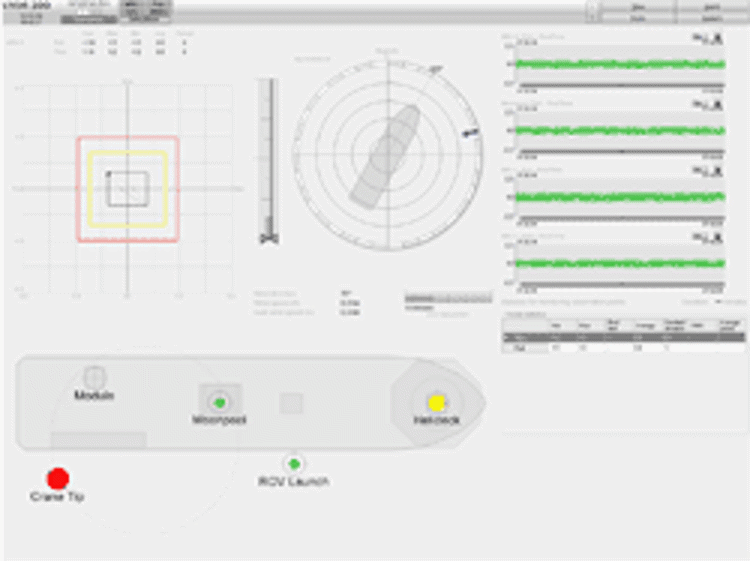 The VMM 200, a sophisticated new vessel motion monitoring solution from Kongsberg Seatex, is set to improve the safety and efficiency of offshore operations. It actively monitors a vessel's motion in 6-degrees-of-freedom and is a critical decision support tool for marine operations such as: Light well intervention, offshore crane operations, module handling on deck and over moon-pool, and launch & recovery of ROVs.
The VMM 200 takes input from Kongsberg Seatex's own Motion Reference Units (MRU). It also integrates data from existing navigation and weather sensors and can also be delivered with an interface to wave radar. Many vessels already have the majority of these sensors onboard and the VMM is able to combine their data to ensure that an accurate representation of a vessel's motion at various points can be presented within its user-friendly interface.
"By combining the MRU, navigation and meteorological sensor input, the VMM 200 enables the user to monitor the motion of any user defined point of interest on the vessel. The system will give alarms and warnings when the motion level exceeds user-defined limits," comments Product Manager, Finn Otto Sanne, Kongsberg Seatex. "The vessel motion data supplied by the VMM 200 has never been available before in such a dedicated and accurate format."
To find out more about these safety and efficiency enhancing solutions for offshore vessels and Kongsberg Maritime's entire offshore solutions portfolio, visit the company on stand 416 at Offshore Europe 2009.