Training with real systems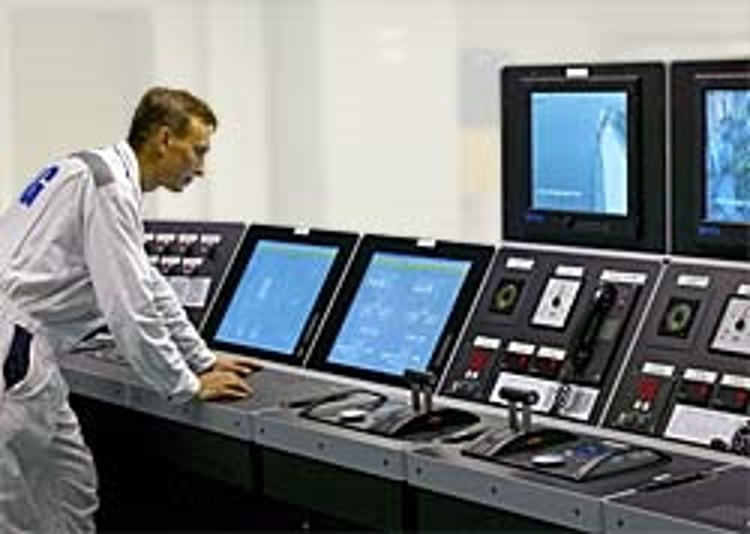 The new contract comprises a system upgrade of the academy's existing Neptune Engine Room Simulator integrated with the real onboard KONGSBERG alarm, monitoring and control system, K-Chief 500, and the main engine remote control system, AutoChief C20. The new ERS system will offer more efficient training methods and provide students with an even better understanding of the processes in the engine room.
The possibility to train students on actual integrated automation systems has taken simulator training a significant step forward. Being in a position to offer training on real alarm monitoring and control systems and main engine remote control systems will put the students in an environment identical to what they will find onboard. This simulator gives Kalmar Maritime Academy an unique possibility to offer more realistic training to both existing students and shipping companies.
New MultiTouch system presents new opportunities
A part of the delivery includes a new DNV Class A Neptune operational engine room simulator. The simulator includes instructor station, engine control room console, main switchboard, and software based interactive mimic panels, Big- View, where all units are configured with the innovative Neptune MultiTouch Technology. The new touch screen system, is based on Kongsberg Maritime's proven Neptune architecture for engine room simulation. This ensures that all models are highly accurate, offering true realism to help students retain what they learn during simulator training. The MultiTouch configurations will give Kalmar Maritime Academy a more flexible solution as different simulation models can be loaded utilising the same simulator hardware.
DNV certified
All Kongsberg engine room simulator models are compliant with the Regulation I/12 of the STCW'95 Convention and certified according to Det Norske Veritas (DNV) classification requirements 2.14, 2007. The model delivered is no exception and holds a DNV Class A Statement of Compliance.
About Kalmar Maritime Academy
Kalmar Maritime Academy has been training deck and engine officers for the merchant fleet since 1842. At present some 600 regular students attends the academy's main programmes: the Master Mariner Programme, the Marine Engineer Programme and the Energy Technology Study Programme. In addition approximately the same number of officers attend its in-service courses. The academy has a complete set of KONGSBERG simulator including DP-, GMDSS-, cargo handling- and ship handling simulator. All simulators are continuously upgraded and extended, with the aim of being a world class maritime academy.