Realistic simulation for Norwegian high-speed rescue boats
New sea rescue school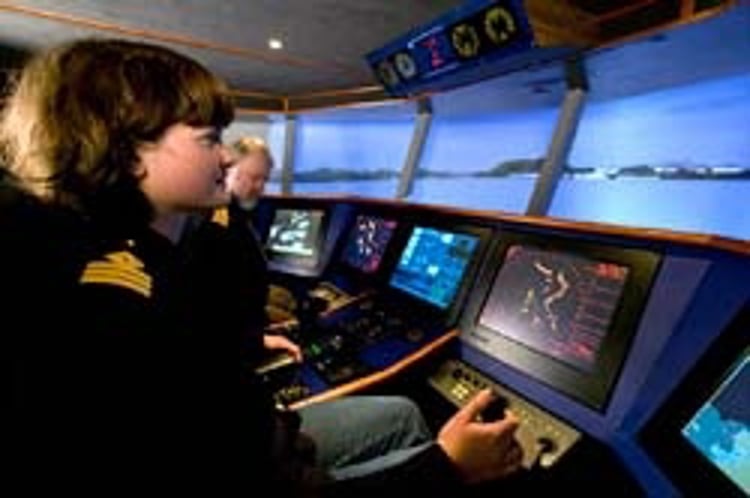 The Norwegian Society for Sea Rescue (NSSR) signed a contract with Kongsberg Maritime 9th June for the delivery of a high speed vessel simulator, to be installed at its new sea rescue school in Stavern, Norway.
The simulator will be equipped with a cockpit bridge that replicates the vessels that the NSSR already has at its disposal. Two new hydrodynamic models will be produced for the project that will enable the simulators to realistically mimic the NSSR's newest rescue boats. The simulator contract also includes a 5-year agreement for service and support.
As a humanitarian organization, the NSSR is committed to saving lives and recovering property at sea, by maintaining rescue services along the Norwegian coast and neighbouring sea areas. The NSSR also runs an information service and educational program designed to improve safety for boaters.
Search and rescue operations
The newly ordered simulator will be employed for training NSSR's own crew and to build increased awareness about search and rescue operations. Simulator training will contribute towards increased safety by allowing training on accidents and other scenarios that can be too dangerous or too difficult to practice in real life. Additionally, NSSR sees an increasing need for planning and the ability to offer simulator training for drivers of large, high-speed leisure boats.
"Our rescue boats have a speed of 30 to 40 knots so the need for simulator training is increasing. The fact that we can also practice situations where helicopters and other vessels are involved, makes this a really good investment," says the secretary-general of NSSR, Øystein Stene who considers it particularly positive that Kongsberg Maritime continues to cooperate with the NSSR six years after the 'Simrad Færder' and 'Simrad Buholmen' rescue boats were donated to NSSR by KONGSBERG.
A great asset
Kongsberg Maritime is very happy to have been chosen as supplier of the simulator. "We cover a large international market. But this delivery is very important. We know that the NSSR has unique competence within its field and such professional clients are valuable to us. A training centre in our local community focusing on maritime safety and knowledge is something we consider a great asset," comments Area Sales Manager, Svein Holmøy.
Kongsberg Maritime has delivered simulators since 1972 and today holds a 75% global market share within the Marine and Coast Guard market. The company's training department also arranges training on Kongsberg Maritime equipment. The new NSSR simulator offers functionality that enables the instructor to control time, location, weather conditions, wind, current and other vessels' movements. It is also possible to enter faults in machinery or equipment, in addition to a range of other functions that allow simulator training in realistic situations.