Oceanology International, 11 - 13th March 2008, ExCeL, London, Stand: 550
Subsea 7 receives MRU with serial number 5000 and orders more during OI 08 presentation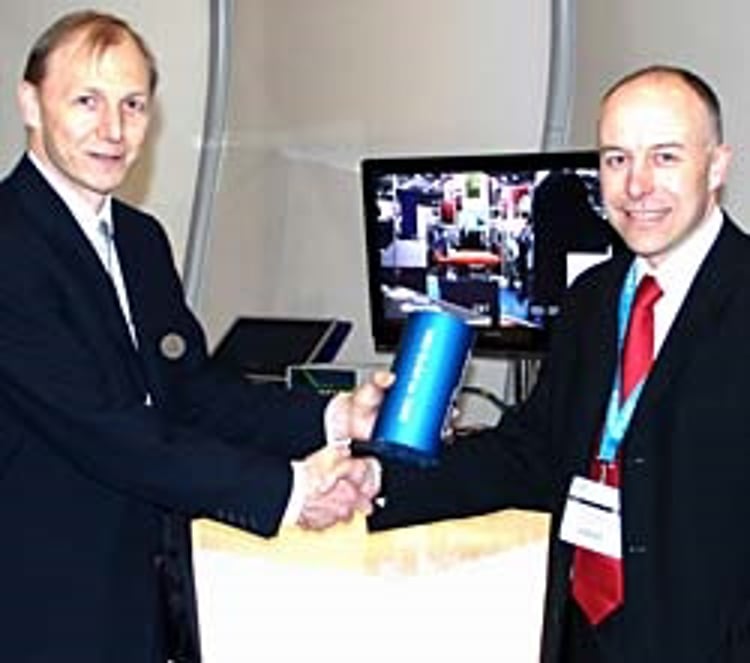 Kongsberg Seatex, the position reference systems division of Kongsberg Maritime celebrated a significant achievement in the development of its Motion Reference Unit - MRU today (March 11th 2008) by presenting Subsea 7, one of the world's leading Subsea engineering and construction companies, with the MRU marked SN 5000.
Martin Day, Subsea 7's Global Survey Manager, accepted the special MRU during a presentation on the Kongsberg Maritime stand at Oceanology International. Showing the company's support for this almost industry standard system, an order for two further units has been received from Subsea7.
Highly accurate observations
"Subsea 7 continues to be a major user of Kongsberg Seatex motion sensors. The units are key components of our offshore positioning solutions and reliably provide us with highly accurate observations together with the high data rates and low latency functionality that we require," comments Mr. Day. "We are very pleased to accept this milestone MRU, which will join the many others we have in the field, including those recently installed onboard our new flagship deepwater pipelay vessels the Seven Oceans & the Seven Seas."
Supports a diverse range of activities
Over many years Subsea 7 has purchased significant numbers of Kongsberg MRU-5s, which are used to support a diverse range of activities including dynamic positioning, helideck monitoring, surface and sub-surface positioning, attitude control and multibeam survey. The latest generation MRU-5 systems will be integrated with Subsea 7 vessels' Seapath and HiPAP systems to ensure optimal positioning accuracy and performance on deepwater projects.
Technology
The Kongsberg Seatex MRU (Motion Reference Unit) utilises inertial navigation grade accelerometers and several high-quality gyros to measure roll, pitch, yaw and heave motion in marine applications such as motion compensation for multibeam surveying, orientation and attitude measurements for AUVs/ROVs, hydroacoustic positioning and ocean wave measurements.
"Subsea 7 continues to be a key customer for our MRU products so we are delighted to present them with MRU serial number 5000 and even happier that they have placed further orders," comments Iain Fullerton, Sales Manager - Underwater Navigation, Kongsberg Maritime Ltd. "Kongsberg Seatex continues to develop the MRU technology and provides today a leading, state-of-the art range of solutions for this highly demanding market."