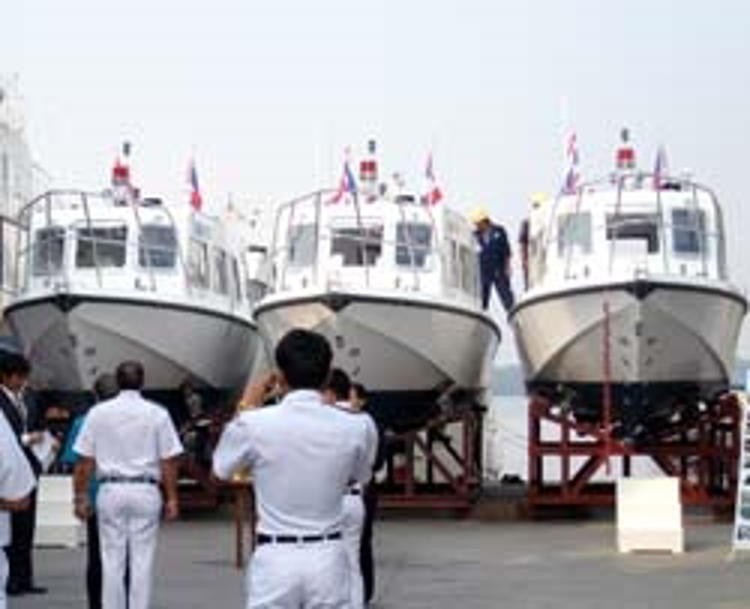 The Royal Thai Navy, Hydrographic Department, has embarked on an ambitious project using three EM 3002D multibeam echosounder systems to accurately chart the river to allow greater safety of navigation through the river channel. Key personnel involved in the project, Admiral Congvat Neelasri and Director General and Captain Taywan Sukkasem mentioned that the information will also be beneficial for water resource management and studying the river's behaviour for erosion prevention.
The first phase of the charting process has already taken place with all EM 3002D system working very effectively. The survey conditions prove to be a very demanding environment, with high current flows and turbid water conditions. Because of the very shallow water depths, dual head systems were chosen to give maximum swath widths with accurate bathymetry (to IHO special order 1 category) out to 10 x water depth.
About the Mekong River
The Mekong River stretches 4,200 kilometers and is the tenth largest river system in the world. Beginning in the mountains of Tibet, the Mekong flows south into China's Yunnan Province, where it drops more than 4,000 meters and emerges into an alluvial delta that spans the Golden Triangle where Laos, Burma and Thailand meet. The river courses through Laos forming a border with Thailand, then flows through Cambodia including its capital Phnom Penh before culminating in the Vietnam delta and the South China Sea.
The Mekong River has long been a source of political tension between countries it runs through. This is due to environmental issues such as dam's being built along the river, pollution and water levels.