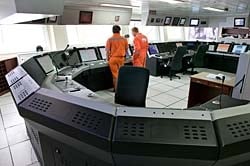 Developed specifically to address cyber-security challenges unique to the industrial automation industry, Achilles has become a world leader delivering trusted solutions for diagnosing known and unknown vulnerabilities in SCADA and industrial control systems. The system is widely deployed amongst global operators, systems integrators and vendors who supply and manage critical infrastructure in sectors such as power, energy, water, transportation, telecommunications, manufacturing, as well as military and intelligence.
The Achilles Satellite will be integrated into Kongsberg Maritime release regression tests to ensure the quality of the frameworks provided by the Kongsberg Maritime Technology Base. In addition, the system will be used for testing resilience against cyber threats of KONGSBERG delivery projects on customers' demand.
"We applaud KONGSBERG's strategy to improve the security posture of their products and adopting expert cyber-security testing as a crucial component of the development lifecycle," said Tyler Williams, CEO and President of Wurldtech Security Technologies, Inc. "We are pleased to add KONGSBERG to our growing list of control system manufacturers who have chosen to leverage our Achilles technology to diagnose, mitigate and manage cyber security risk from design through deployment."
By integrating Achilles into the established product development processes, KONGSBERG is greatly reducing business risks for its customers by proactively identifying, isolating and addressing vulnerabilities in process automation and control systems before they are deployed in operational industrial networks. This will minimise downtime and improve the overall security, availability and integrity of global critical infrastructure.
"In a digital world with increasing requirements regarding open networks, our systems become increasingly exposed to cyber attacks. By purchasing the Achilles Satellite system Kongsberg Maritime is addressing this threat to ensure our global customers receive the highest level of on-going security assurance. The system will improve the security and reliability of our customer's operations," said Sølve Raaen, Kongsberg Maritime.
About Wurldtech Security Technologies
Wurldtech Security Technologies is the leading provider of cyber risk and compliance management solutions to industrial automation industries worldwide, and the first company to offer a comprehensive suite of products and services designed specifically to protect the systems and networks that operate the foundation of the world's critical infrastructure.
Founded in 2006 by internationally-recognized industrial cyber security experts, Wurldtech has positioned itself as the trusted security advisor to many of the world's largest suppliers and operators of mission-critical systems by providing breakthrough security solutions that address the unique security challenges faced by the industrial automation industry.