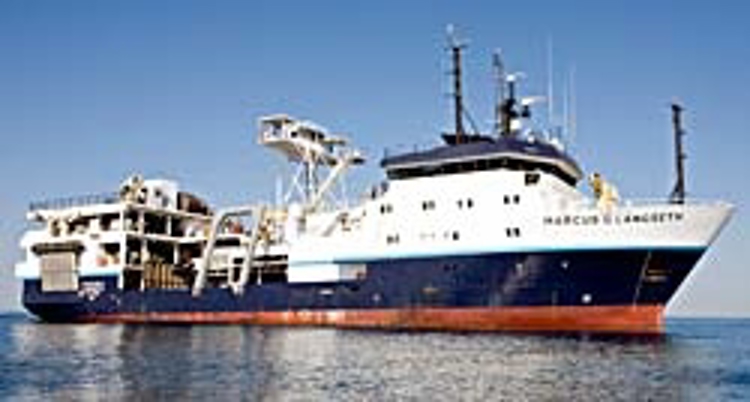 EM 122 for R/V Marcus G. Langseth
When the R/V Maurice Ewing was retired by Lamont-Doherty Earth Observatory (LDEO) in 2004, the former Norwegian seismic vessel Western Legend was acquired as a replacement and renamed the R/V Marcus G. Langseth. The vessel has since undergone major modifications to make it the primary geophysical research vessel in the U.S. academic fleet. In addition to a seismic system with both 2D and 3D capabilities, the modifications also included the installation of a 1° x 1° EM 120 multibeam echo sounder and preparations for future addition of a KONGSBERG sub-bottom profiler. The installation of the 3° x 3° SBP 120 system, which may occur in 2008, will further enhance the extensive geophysical capabilities of this vessel. The EM 120 system presently installed will be changed to an EM 122 when this upgrade path becomes available, also, most likely, in 2008.
With both the vessel recertification and the commissioning of the EM 120 already completed, the R/V Marcus G. Langseth is expected to enter science operations in late 2007 or early 2008. One of this vessel's primary missions will be to survey deep water drill sites as part of the Integrated Ocean Drilling Program.
EM 122 for R/V Melville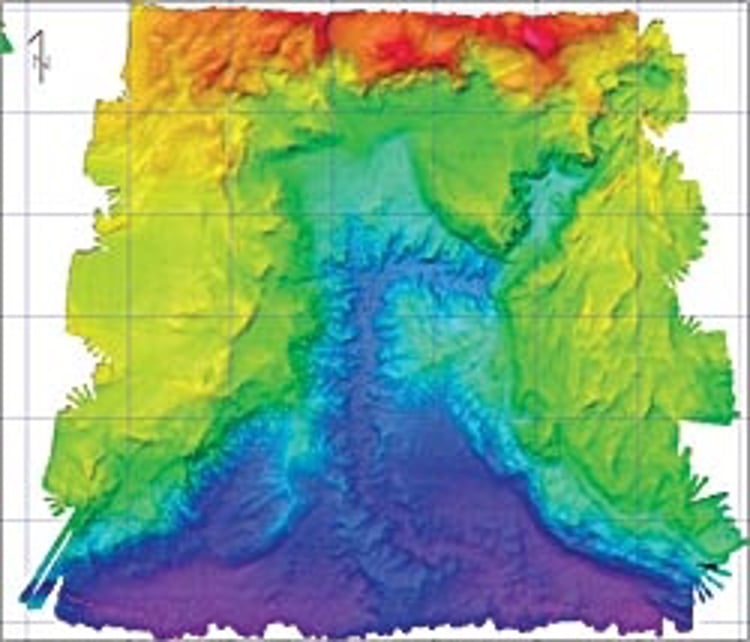 The R/V Melville is a large, multi-mission oceanographic research vessel operated by Scripps Institution of Oceanography. It can accommodate as many as 38 scientists on expeditions lasting up to 40 days. First launched in 1970, the Melville underwent major refurbishing and lengthening around 1990, at which time a Seabeam 2000 multibeam system was installed. This system was recently replaced by a 1° x 2° Kongsberg EM 120 multibeam echo sounder at the SSK Shipyard in Sasebo, Japan. Following successful at-sea testing and commissioning, the EM 120 system was accepted by Scripps in October this year. As part of the contract, Kongsberg will upgrade this EM 120 to an EM 122 when this next generation system becomes available.
Another vessel operated by Scripps, the R/V Roger Revelle, is also equipped with a 1° x 2° EM 120. Upgrading this system to an EM 122 is also in Scripps' plans.
EM 3002D for Coastal Carolina University
The Center for Marine and Wetland Studies at Coastal Carolina University will significantly increase the scope of geophysical research along the South Carolina coast when it takes delivery of a dual head EM 3002D Multibeam Echo Sounder within the next couple of months. A Seatex Seapath 200 vessel reference system is also part of the delivery.
According to center director Paul Gayes, professor of marine science and geology, the addition of the EM 3002D establishes an integrated state-of-the-art mapping capability. With the acquisition of this equipment the center will have the means to conduct highly advanced, comprehensive profiling and mapping of the ocean floor. Together with other advanced instrumentation this will make it possible for center scientists and students to study how sediments and near shore reef environments interact with waves and currents moving above. The data derived from these studies will have many important applications, from planning beach renourishment projects to the management of fishing habitats.