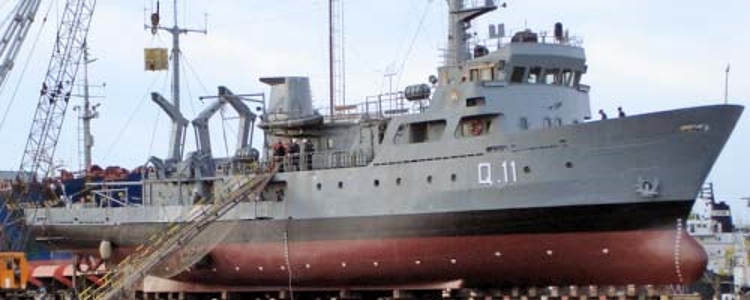 Kongsberg Maritime has recently completed the installation and commissioning of the bathymetric systems onboard the 'ARA Comodoro Rivadavia', and the 'ARA Puerto Deseado', two Argentine Navy owned and operated Hydrographic vessels.
The upgrades were sponsored by the UNDP (United Nations Development Programs): The first through the Environmental Secretary of the Ministry of Health, and the second through COPLA (Argentine Commission to determine the Continental Platform Limits), of the Ministry of Foreign Affairs.
ARA Comodoro Rivadavia
The system installed on the ARA Comodoro Rivadavia is intended for shallow waters, and will be used for research and chart production of coastal waters and internal rivers. It consists of a two head EM 3000 multibeam, operating at 300Khz with a transducer hoisting system, an EA400 single beam operating at 38 and 200Khz, and an EA400P on the same frequencies. The system, which also benefits from having a Kongsberg Seatex MRU and DGPS positioning unit, was first used on South America`s southern channel, the Beagle channel, with great success.
ARA Puerto Deseado
The ARA Puerto Deseado is equipped with two redundant Kongsberg Maritime single beam EA600s, each with two frequencies: 200Khz for shallow waters and 12 Khz for depths down to 11000metres. The ship is now specified to fulfil COPLA´s needs.
The installation of the bathymetric equipment onboard ARA Puerto Deseado was particularly challenging. An initial installation period of 18 weeks was slashed to just 8 weeks due to the vessel being required to sail to the antarctic during a good weather window. The vessel has a very important bulb bow and a thruster tube in front of the transducers location, making installation more complex than normal and COPLA requires a far more stringent checklist, covering third party sensors, than that usually encountered by Kongsberg Maritime's installation team.
"Despite several unique challenges, the systems were installed and ready to go on time. After leaving the shipyard, all trials showed the high quality of the systems. The first surprise was getting marks up to 700 metres with 200Kz operation, in not too cold waters and with not very hard bottom. The other surprise was the lack of noise in the picture up to 6000 metres, especially with the difficult conditions found in the hull," comments Torbjorn Kjaer, head of single beam maintenance department at Kongsberg Maritime.