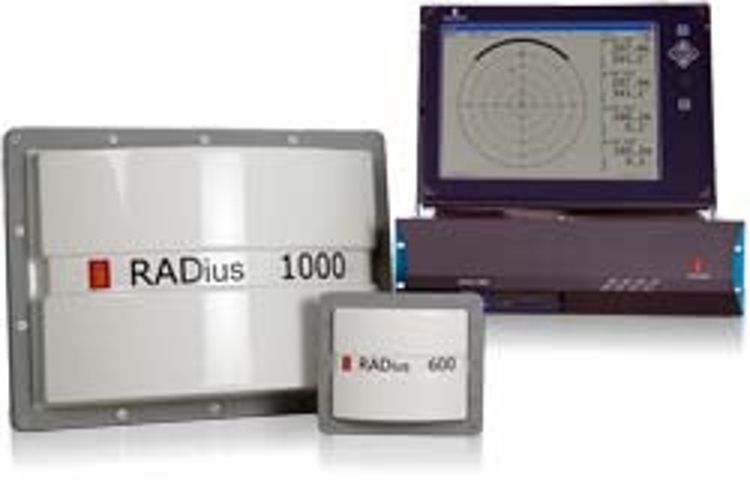 Kongsberg Seatex, the position reference division of Kongsberg Maritime, has further developed its proven RADius relative positioning system for offshore applications. The new RADius solution can have up to four active sensor heads (interrogators) that collaborate to gain increased coverage and redundancy. The new system has been developed as a result of customer and market feedback.
The RADius system measures distance and bearing between a moving vessel equipped with RADius sensor heads and retro-reflective transponders mounted on the target that the vessel is approaching. Multiple RADius sensor heads onboard increase the angle at which the transponder signal can be received, which allows further flexibility to navigate on approach to the transponder equipped target. This in turn provides more freedom and safer manoeuvring.
The RADius 1000 D - dual system
There are two new RADius systems available. The 1000 D (dual) system is a multiple sector system and provides two sensor heads that can be mounted on suitable places on the vessel dependent on the construction of the vessel or operation the vessel should do. For instance, mounting them both on the front of the vessel increases the reception angle and thereby transponder signal availability for applications where the vessel moves into position bow first. The interrogators can also be mounted on either side of a vessel, which will increase flexibility of operations as the vessel can approach using RADius on port or starboard.
RADius 1000 Q - quad system
The RADius 1000 Q - quad system is an omni directional system and utilises four sensor heads, which can be placed on suitable locations on the vessel dependent on the construction and operation. This can provide full 360˚ signal acquisition as well as avoidance of blind angles as there will be a sensor head at a receiving angle to transponders at all times, regardless of the vessels relative position to the RADius transponder equipped target. The increased flexibility of the RADius Quad system provides benefits in safety - increased RADius positioning availability, and flexibility as the vessel can approach its target either side, bow or stern on.
"RADius has already proven itself as an invaluable relative positioning tool for DP operations in the offshore sector," comments Arne Rinnan, Technical Director, Kongsberg Seatex. "We continue to develop the system to ensure we are maximising the performance of this technology, and the new versions of the system together with the new RADius transponders, are direct results of this strategy."
RADius uses low power FM CW signals to ensure an accurate position reading without any moving parts, thus the system has low maintenance costs and is easy to deploy. This makes it ideal as a complementary system for use in harsh and demanding offshore environments where GPS due to i.e. shading, may have reduced availability.