Integrated Multibeam Sonar Systems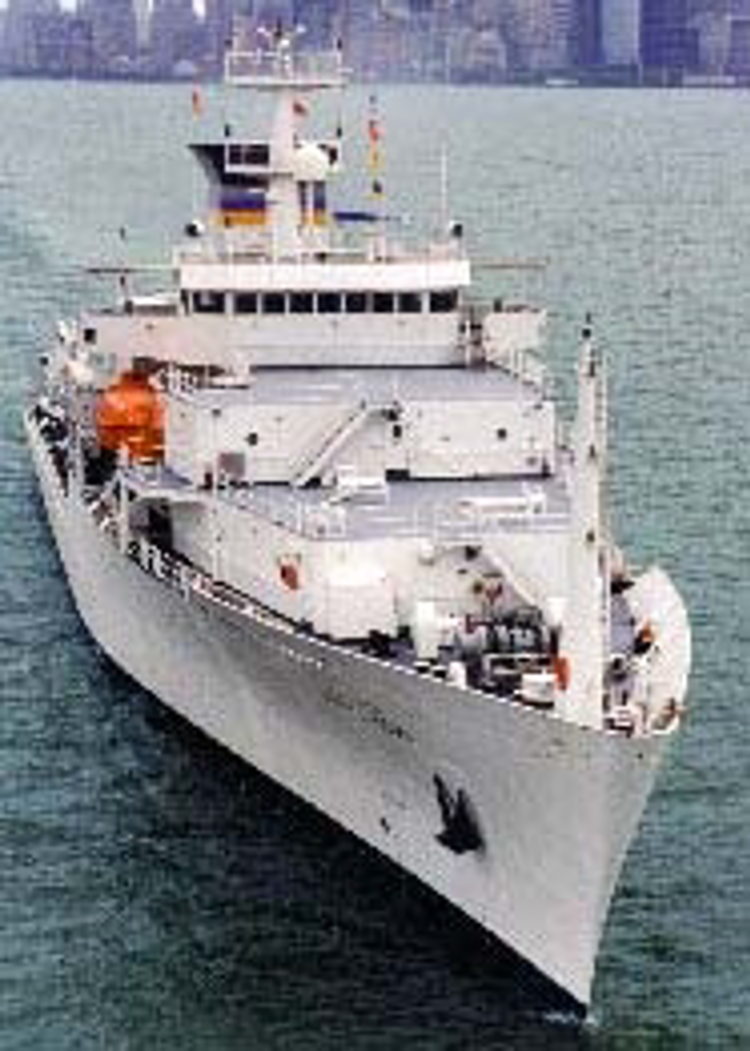 Kongsberg Maritime's USA subsidiary, Kongsberg Underwater Technology Inc., has received the first delivery order of $2,132,109 USD for integrated Multibeam Sonar Systems for the Navy. These systems include deep water multibeam echo sounders, multi-frequency single beam echo sounders, deep water sub-bottom profilers and acoustic doppler current profilers.
The systems are for permanent installation aboard the six T-AGS 60 class survey vessels operated by the US Naval Oceanographic Office (NAVOCEANO). The contract is for performance over a five year period and if all options are exercised will continue until February 2011 with an estimated total value of $29,545,558 USD. The contract includes design, manufacture, test, integration, installation and overall support of the new systems.
Equipment package
The integrated equipment package selected by the Navy includes four sonar systems:
EM 120 (1° x 1°) - Deep-water Multibeam echo Sounder for mapping to full ocean depth
EA 600 (200, 38, 12 kHz) - Multi-frequency Single Beam echo sounder for surveying at all depths
SBP 120 (3° x 3°) - Deep-water Sub-Bottom Profiler for high-resolution sub-bottom data to full ocean depth
ADCP (supplied from Teledyne RD Instruments) - Multi-frequency Doppler Current Profiler for shallow and deep current profiling
Compatibility requirement
The new sonar systems will replace current equipment, including the Kongsberg EM 121A, 12 kHz multibeam originally installed when the vessels were constructed in the early 1990's. One of the Navy's key requirements is for compatibility with the existing Integrated Survey System (ISS-60, supplied by SAIC), which is the primary acquisition system onboard all of the T-AGS 60 platforms. The wet-side components will be installed using a flat array configuration on an externally mounted underwater gondola supplied by the Navy.
Best value
Kongsberg Maritime's proposal was determined to offer the best value to the Navy, based on price and other factors including "corporate experience" and "past performance". Kongsberg Maritime's track record, prior to this award, includes contracts for supply of twelve (12) deep-water 1° x 1° multibeam echo sounder systems to various customers world-wide. Kongsberg Maritime's past experience working with NAVOCEANO onboard the T-AGS 60 class and T-AGS 50 class ships, assures a thorough understanding of all of the requirements and technical challenges inherent in the delivery and long term support of these systems.
Kongsberg Underwater Technology
This project will be managed and systems supported by Kongsberg Maritime's technical team in Lynnwood, Washington. Since 1990 Kongsberg Underwater Technology Inc. has been established in Lynnwood (approximately 15 miles north of Seattle) as the North American center for hydrographic survey systems engineering, production, integration and customer support. Kongsberg Underwater Technology Inc. is a leading supplier to the U.S. Navy, academic institutions and commercial markets for underwater systems and solutions.