In January 2007, Bodin Upper Secondary School will launch the most modern high-speed vessel simulator in Norway

Tove Bergmann, education councillor for Nordland County, and Runar Pedersen of Kongsberg Maritime in Horten has signed a contract that will make the school far more than a bridgehead in maritime education, It will also provide anchorage for close cooperation between education and industry.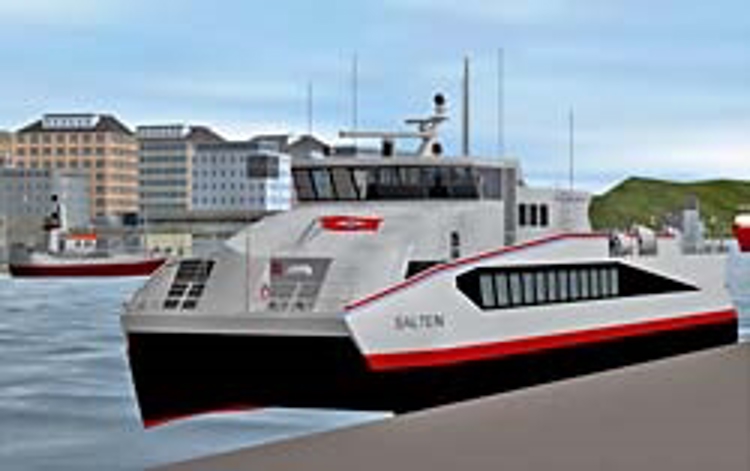 The Hurtigruten Group has signed a contract with Bodin Upper Secondary School to rent simulator hours valued at 1 million Norwegian Crowns per year for the next five years. "That called for us to hoist the flag", smiles Rector Brynjulf Kildal at the school.
Breaker waves
The new bridge simulator will cost 12.3 million Norwegian Crowns to put in place. It has taken four years to reach this point, but we rode a few breaker waves and had to implement a modicum of dynamic positioning, but now the time has come to plough ahead with this exciting project.
Bodin Upper Secondary is a maritime technical school. The simulator equipment it has today originated in 1984 and 1991, meaning it is outmoded and impractical to run. It has been remarked that it also occasionally requires a hair dryer to get it started, so its about time a new simulator was installed!
"It simply isn't up to today's standards. We have already noticed that students apply to other schools to avoid dealing with our equipment. However, as from January, we will be the ones setting the standard. I couldn't be happier about that," adds the Rector.
Norway's most modern simulated conning bridge will be an exact replica of the bridge on the Hurtigruten Group's high-speed vessels. Visually, the simulator will represent three vessels, 12 PC-based solutions and five authentic bodies of water.
Major contract
"This is a major contract for us as well. Our orders for simulator solutions usually amount to about MNOK 6, although we have also delivered total packages valued at more than 100 million Norwegian Crowns to the international market," comments Runar Pedersen of Kongsberg Maritime.
There are two versions of the simulator:
A high-speed vessel bridge with a 225-degree continuous field of vision.
Conventional bridges for general navigation training and bridge duty with a 120-degree field of vision.
"The simulators are not hydraulic, but that is not necessary for creating a feeling of authenticity. Visual impressions and sounds make you feel as though you are at sea, even though you're sitting in the classroom. The systems offer more than enough to make you seasick," promises Pedersen.
Initially, there will be two high-speed vessel models and two ferry solutions in the simulators. The five visual databases will depict the waters between Bodø and Svolvær and Bodø and Sandnessjøen.
"Meanwhile, the equipment could realistically simulate other vessels in other waters all over the world", he says. "Although we have old equipment right now, we will definitely be bridging the maritime gap as of January," concludes Rector Brynjulf Kildal