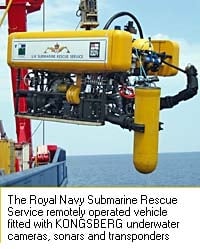 In response to a call for assistance a Royal Navy Submarine Rescue Service Remotely Operated Vehicle (ROV) arrived in Petropavlovsk-Yelizovo, off Russia's far eastern Kamchatka pennisula, on Sunday 7th August 2005. Its task was to assist in the rescue of the 'Priz AS-28' submarine and its crew of seven Russian submariners trapped 625 feet down on the icy Pacific Ocean floor, with a rapidly diminishing air supply.
KONGSBERG equipment
The ROV, which is fitted with Kongsberg Maritime cameras, sonars and transponders, spent six hours cutting away at the fishing net cables that prevented the submarine from surfacing. When the final cable was cut, the ROV was recovered and the Priz AS-28 immediately blew its tanks surfacing three minutes later. The crew lifted the hatch themselves and climbed out unaided from the submarine.
UK Submarine Rescue Service
Royal Navy Commander Ian Riches praised his ROV operators, and thanked the Royal Air Force for delivering the ROV and its crew, and all the contractors involved with the UK Submarine Rescue Service who make this international capability a reality.
The world's navies recently met
Mike Topp from Kongsberg Maritime in Waterlooville, UK said, "We are delighted that our equipment has been used to such great effect in this important international rescue operation. It is reassuring that the world's navies had met only recently to discuss international collaboration on submarine rescue and we are relieved to hear that the Priz AS-28 crew is safe. We commend all those involved in the rescue."