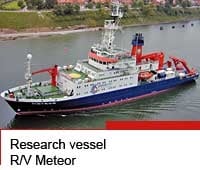 Kongsberg Maritime was recently awarded a major contract by The German RF Forschungsschiffahrt GmbH in Bremen. The contract is for the supply and installation of two multibeam systems and the corresponding software, for the German research vessel METEOR.
Installed systems
The package includes 1 x 2 degree deep water multibeam EM 120 and a 1 x 1 degree medium water multibeam EM 710. Both systems are operated by the Seafloor Information Software (SIS) and are capable of displaying and logging information of the water column.
Vessel information
R/V METEOR is a 97.5 m multipurpose research vessel with the capacity for up to 28 scientists and is operated on behalf of the government of the Federal Republic of Germany. The vessel operates worldwide and is suitable for all marine research disciplines, including marine geosciences, oceanography, meteorology, planctology and marine zoology.
The third German research vessel fitted
KG R/V METEOR will be the third German research vessel fitted with a multibeam survey suite from Kongsberg Maritime. R/V SONNE owned by RF Forschungsschiffahrt GmbH is fitted with an EM 120 and R/V MS MERIAN which, is operated by Briese Schiffahrts GmbH & Co. has had the EM 120 and the EM 1002 installed.