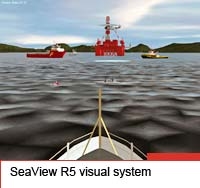 The Royal Norwegian Naval Academy located in Bergen, Norway has recently purchased major extensions of its existing Polaris Ship's Bridge simulator, which is equipped with 6 own ships, from Kongsberg Maritime.
Major visual extension
The extension will mainly consist of a major visual extension for all bridges with SeaView R5 to 7 channels per bridge, enabling up to 210° horizontal field of view. Additionally, generic panels for bow/stern thrusters and extended communication will be installed. The extension will also include a new and flexible conning display from Kongsberg Maritime - now incorporated into the Polaris ships bridge simulator. For one of the six bridges new Azimuth Thrusters and a real Optical Bearing Device will be added, in accordance with new vessels in production for the Norwegian Navy.
Demanding user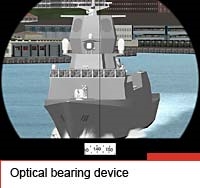 Kongsberg Maritime believes that this extension to the existing Polaris Ships Bridge Simulator proves that the company is fully accepted as a co-operation partner and supplier of training systems to professional and demanding users like the Royal Norwegian Naval Academy.
Support program
The Polaris Ships Bridge Simulator at the Royal Norwegian Naval Academy is also supported by the Long Term System Support Program, enabling software updates and extended support.