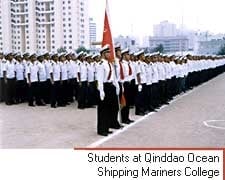 The no.1 marine training centre in China, Quinddao Ocean Shipping Mariners College recently acquired a new Polaris Navigation simulator.
Navigation or marine engineering
Quinddao Ocean Shipping Mariners College was established in 1976 and offers students a three-year degree in either Navigation or Marine Engineering. It is affiliated to and operated by the China Ocean Shipping Companies, better known as the COSCO group.
Formal college degree
Officially authorised by the Ministry of Education, the college provides students with a formal college degree as well as offering future seamen training for work aboard foreign vessels.
Polaris bridge simulator
The students in the Navigation Department already enjoy a Polaris bridge simulator system with four instructors and 80 own ships and as a replacement of their old KONGSBERG NMS – 90 bridge simulator they will now have the added benefit of radar/ECDIS simulators and four more ships.