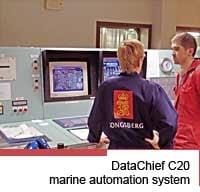 The Kongsberg Maritime DataChief C20 integrated automation system and fire and safe system have been selected for three MAERSK RoPax (Samsung H1523-4/1574) projects.
Vessel specifications
Each vessel has a length of 172 meters and a beam of 28 meters. These 34,500 gross tones RoPax vessels will travel between Dover, UK and Dunkerque, France with capacity for 780 passengers & 70 crew / 70 cabins and 117 trucks & 214 cars. They have two controllable pitch propellers driven by four diesel engines (MAN B&W 8L 48/60B) with power output of 9,600 kW * 500 RPM in each engine.
System capabilities
The vessel requires a fully integrated automation system (IAS) capable of performing complex monitoring and control in a safe, efficient and reliable manner. Included is a fire and safe system (F&S) and a emergency shut down system (ESD) specially tailored to requirements. The F&S and ESD is capable of performing integrated fire protection by monitoring and controlling fans & dampers, emergency shut-off valves, fire alarm system, fixed water fire extinguishing system, drencher system and fixed gas fire extinguishing system.
Highly distributed system
The IAS for MAERSK RoPax is a comprehensive system with more then 2000 input/output signals on each vessel. A total of eleven workstations are located in the wheelhouse, engine control room, ship office and C/E Day room. The highly distributed system comprises advanced power management and generator control for three diesel generators (2,280 kW each) and two shaft generators (3,800 kW each), as well as a total machinery process monitoring and control system, covering main engines, tanks, fans, compressors, valves and pumps.
The vessels (H1523/1524/1574) will be delivered sequentially from August, 2005.