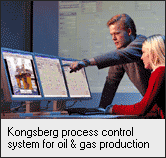 Statoil has awarded Kongsberg Maritime a contract worth approx. US$ 11.2 million for the upgrading of process control systems for oil and gas production on Statfjord A, B and C. The delivery will also comprise a sophisticated process simulator.
The upgrading of the control systems for process control, data acquisition (PCDA) and process shutdown (PCDA and PSD) consists of a complete replacement of all system components, and will take place while the control system is in operation. The changeover to the upgraded systems will be carried out during a week's revision stop for each of the three platforms during 2006.
The process-simulator will be used for process studies, verification of the upgrading process of PCDA systems and optimisation. The upgrades to the Statfjord platforms will make them well equipped to meet future challenges in the late-phase project, which includes a complex crossover from oil to gas production.
The Statfjord contract is a result of a long-term co-operation between Statoil and Kongsberg Maritime. The contract also includes management, maintenance and modifications on Statoil's installations at Heidrun, Norne, Åsgard A and B and the Kristin field.
"The Norwegian oil and gas market, with its development projects and upgrading is vital to Kongsberg Maritime," says Tor Erik Sørensen, Executive Vice President, Sales & Marketing, Kongsberg Maritime. "We have a frame contract for maintenance and operation for new projects with Statoil and the Statfjord agreement joins several similar contracts for other Statoil installations."