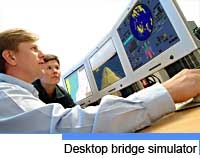 KONGSBERG has signed a contract with the US Navy to supply a total of 57 navigation simulators that will constitute an important part of an ongoing US Navy programme for navigation, seamanship and ship handling training (NSST). The contract replaces a $7 million contract signed in July 2004, and its total scope is approximately $12.1 million.
The bulk of the deliveries will take place in 2006, although some services will take place over the next five years. The contract also includes extensive system support and maintenance.
The NSST programme makes it possible to train seamanship and navigation based on a decentralised model, both on board naval vessels and at local naval bases. This represents a new strategy for the US Navy.