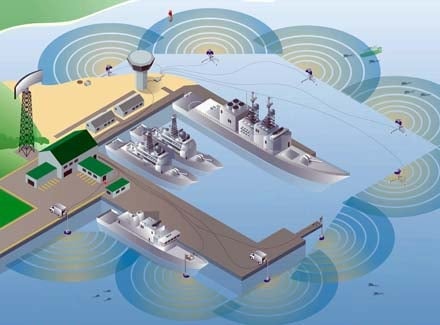 Kongsberg Maritime has announced that its Lynwood, USA based division, Kongsberg Underwater Technology Inc., has been awarded a $3 million contract to supply an additional ten SM 2000 Underwater Surveillance Systems for the US Coast Guard's Integrated Anti-swimmer System (IAS).
To guard against malicious swimmers and divers
Following 9/11, the US Coast Guard was charged with assessing the level of threat and the capability to deal with it, within every US port. A large concern was the threat of malicious swimmers and divers to commercial piers, government and military vessels, cruise ships, terminals and other high value assets. The IAS was developed as a reaction to this threat.
Tracks potential underwater threats
The SM 2000 Underwater Surveillance System is manufactured by Kongsberg Mesotech Ltd, Port Coquitlam, British Columbia, Canada and forms the basis of the IAS. The SM 2000 sound head detects and tracks potential underwater threats and the processor classifies the contacts and alerts system operators to their presence.
Positive identification
High frequency sonar images positively identify whether the contact is a swimmer or diver and not just debris, marine life or some other object. In many tests with actual divers, moving at different speeds and in different directions, the SM 2000 was able to detect them every time. The sonar can differentiate between animals and humans in part because of their different shapes and typical movements underwater. This new system will not be used continuously throughout a port.
Small size - easy to move
Instead, it will be deployed when necessary to protect high-value ships and events. Small in size, easy to move, setup and use, the SM 2000 Underwater Surveillance System will prove to be a valuable asset to port security throughout the USA.