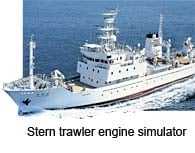 Ecole des Métiers de la Mer, New Caledonia, has further developed its engine room simulation capabilities with the purchase of the KONGSBERG MaK 8M32C engine room simulator. In line with our strategy to deliver flexible, scalable solutions that are also capable of language specific capabilities, the MaK 8M32C engine room simulator is delivered as a Desk Top system with a French speaking user interface, and comprises an evaluation feedback procedure.
Single medium speed engine room simulator
The MaK 8M32C delivery to Ecole des Métiers de la Mer is designed to simulate a stern trawler with a single medium speed (four stroke) diesel engine connected to a CP propeller. The electric power plant comprises of two diesel generators and one shaft generator, whilst the steam plant consists of an oil fired boiler and auxiliary boiler. The simulator user interface includes mimic diagrams for the control room, the engine control room and the bridge operation.
Flexibility and scaleability
KONGSBERG engine room simulators are highly flexible and modular based to suit end user requirements and can be configured to represent any combination of large scale interactive mimic panels, operational panels, consoles, or monitor based local operational stations. Flexibility and scaleability are further enhanced where the simulator itself can be connected to as many desktop workstations as required, which can be effective for training large groups of individuals.
The KONGSBERG MaK 8M32C engine room simulator complies with International standards and regulations including DNV and STCW'95.