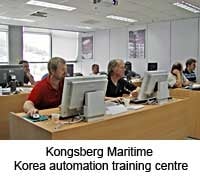 Kongsberg Maritime Korea has opened a sophisticated new training centre. Equipped with facilities for training of Integrated Automation Systems (IAS), the centre was opened in the summer and has proven popular with local shipping companies already.
The classroom facility has capacity for 10 students and the first customer, Maran Gas took full advantage by signing up 20 students, in two groups for 6 day sessions with IAS instructor Mr. Ingar Tvetien who said: "I was very happy with the excellent facilities and support on offer at the training centre."
The students also expressed their satisfaction with the quality of both the training course itself and the facilities at the centre. That the training course was very relevant for their real work onboard meant that all the students gained real operational value from the course. The course evaluation sheets have so far received generally high scores on all points, proving that the format is successful.
Another IAS training course is planned with students from Maran Gas at the end of September. Prior to this, the Kongsberg Maritime Korea Training Center will be upgraded with new facilities for training of AutoChief and DataChief systems.