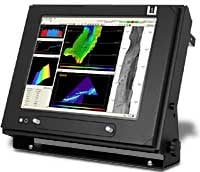 Offshore Europe 2005 is the venue for the introduction of a versatile new survey package for ROVs from KONGSBERG. The EM 3002 ROV Survey Package consists of a complete suite of imaging, positioning and communication hardware and software, and has been designed for straightforward installation and mobilisation on any ROV. (The EM 3002 has now been replaced by the newer EM 2040).
The package includes
EM 3002 single or dual head multibeam echo sounder
HiPAP 500 or 350(P) SSBL acoustic positioning system
HAIN Inertial Navigation and motion sensing system
Bathymetric sensor
Doppler log
Designed for highly detailed pictures
Based on the proven EM 3002 multibeam echosounder, this new package is capable of providing highly detailed pictures for close-up inspection work and detailed and accurate mapping, as well as acoustic imaging of the seabed. The EM 3002 is the ideal sensor for a high-resolution inspection and survey system for ROV use. The system can be fitted with either one or 2 sonar heads each covering a sector of 130 degrees.
Precision underwater positioning
For producing correct and accurate seabed maps, the EM 3002 can be integrated with high precision underwater positioning, which is provided by the tried and tested combination of HiPAP and HAIN (Hydro Acoustic Inertial Navigation).
The HiPAP 350 and 500 acoustic positioning systems work according to the supershort baseline principle, and can measure the relative positions between a ship and a number of transponders located on the seabed, mounted on ROVs, or fitted to subsea constructions. The HiPAP products make use of a transducer with multiple elements and apply digital beamforming techniques to suppress noise from thrusters or the main propeller.
HAIN provides all the ROV motion data that is required for the EM 3002 multibeam system: Heading, roll, and pitch. The vertical position component is obtained by use of an accurate pressure sensor. When integrated with HiPAP, HAIN will improve HiPAP position fixes by a factor of three and will keep inherent drift in HAIN to a minimum.
Fibre optical telemetry
The different package sensors and IMU are fitted to the ROV and communicate with the surface mother ship through a fibre optic telemetry system. There will be 3 computers integrated on the mother ship, one for the multibeam echosounder, one for the acoustic positioning, and one for the inertial navigation system.