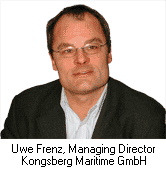 We have opened a new subsidiary in Germany. Kongsberg Maritime GmbH is operational as of January 2005 and has been set-up to provide local support for KONGSBERG customers.
"As one of the largest and most influential shipping nations in Europe, Germany is an important market for us. With an office and support network based in Hamburg, Kongsberg Maritime GmbH will bring KONGSBERG closer to its German clients," states Torfinn Kildal, President, Kongsberg Maritime.
With a local office customers have easier access to our network for new systems, service and support. Kongsberg Maritime GmbH will place special emphasis on assisting the expanding German retrofit market and the advantage of KONGSBERG system upgrades within it.
KONGSBERG will also benefit from being located within a technically advanced shipping community. Uwe Frenz, Managing Director, Kongsberg Maritime GmbH, comments: "Germany is already one of KONGSBERG's biggest user groups and feedback from customers here will go towards evaluating existing systems and creating the next generation of KONGSBERG systems."
Kongsberg Maritime GmbH is co-operating closely with the Kongsberg Maritime service company in Rotterdam, and will through this offer a complete support package for German clients in all areas including yards, ship management and new building departments.
Kongsberg Maritime GmbH is a new business in the KONGSBERG worldwide network of companies – already established in major shipbuilding and shipping countries.
Kongsberg Maritime GmbH Hellgrundweg 109 22525 Hamburg Telephone: +49 40 - 5473460 Telefax: +49 40 – 54734699 E-mail: