Background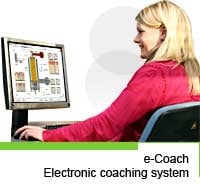 In response to customer demands for increased training efficiency and student throughput, KONGSBERG has developed a new simulation tool to meet these demands and assist with mentoring tasks of the Instructor. Until recently, simulator exercises have been controlled and monitored by skilled Instructors present at all times with students.
Increased simulator efficiency
Through the use of e-Coach, Instructor no longer have to be physically present all the time, allowing for "self-study" and "part task training" to be accomplished by students running "e-Coach" exercises with standardized mentoring and assessment features. This means that e-Coach contributes to increase the simulator efficiency by providing more structure and more learning with less Instructor time.
What can e-Coach do?
The KONGSBERG e-Coach can provide self-study tutorials, can act as a trainer giving guidance and corrective feedback (mentoring) during various exercises, and can "stop" the simulation if the student makes a critical error.
Instant feedback
Additional e-Coach advantages include the standardization and automation of messages to the student, the student always has access to an "instructor" independent of when and where the exercise is run. The electronic "e-Coach" never has a bad day, and provides the necessary feedback instantly thereby increasing training effectiveness and student motivation.
E-Coach software module
The e-Coach software is a stand alone plug-in software module that can be connected to all Neptune Engine Room and Cargo Handling Simulators.. The e-Coach Editor is installed on the instructor PC while the Exercise Launcher is installed on the student station(s). The e-Coach editor consists of two editors: the Trigger Editor and the Message Editor. The Trigger Editor is used to monitor certain variables to trigger the appropriate message.
For example, using the Lubricating Oil Temperature (T01350 in the simulator model) as the variable being monitored, when the programmed expression is TRUE, i.e. If T01350 > 55 the Trigger Editor will trigger the message to pop up. The Message Editor is used for editing various text messages showing up in the message boxes i.e. "Your Lubrication Oil temperature is running high".
KONGSBERG provides a standard set of five (5) "ready to go" e-Coach exercises including documentation. Since the exercises have an open structure, they can be copied, modified, and expanded upon whenever needed.
The e-Coach messages pop up on the student screens and are categorised as follows:
KONGSBERG is committed to expanding the application of its Polaris and Neptune simulator products through advancements in simulator technology and by listening to its customers. The new "e-Coach" tool is just one example of how KONGSBERG delivers simulation products to meet the ever changing requirements for training.