AIS base stations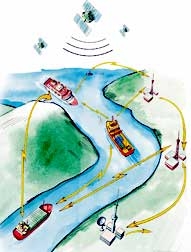 KONGSBERG has been contracted to supply AIS base stations to main contractor GateHouse A/S in connection with Phase 2 of the Danish AIS infrastructure project, which is currently in progress for the Royal Danish Administration of Navigation and Hydrography.
Reliable and cost effective
Installed at the AIS Physical Shore Station (PSS), the AIS Base Station is one of a series of vital components in an AIS network. The BS410 receives and communicates AIS data from all AIS sources within the coverage area. It is designed, tested and approved within the international standards relating to AIS infrastructure equipment and provides a reliable, cost efficient coastal surveillance system as a stand-alone product or integrated to the AIS network.
Easy installation
Easy installation, operation and maintenance are key factors in the design of the BS410. The integrated display and keyboard ease installation by providing access to all base station settings, making maintenance software and laptops redundant. The BS410 can be operated remotely via an Ethernet LAN, making network integration straight forward. This is especially useful considering that many AIS Physical Shore Stations are located in inhospitable areas.
Many references
KONGSBERG AIS base stations have been chosen for several key AIS infrastructure projects around the world due to excellent hardware reliability and functionality. With a long history in providing infrastructure for AIS, GPS reference networks and EGNOS monitoring systems, KONGSBERG provides vital project knowledge in addition to reliable hardware.