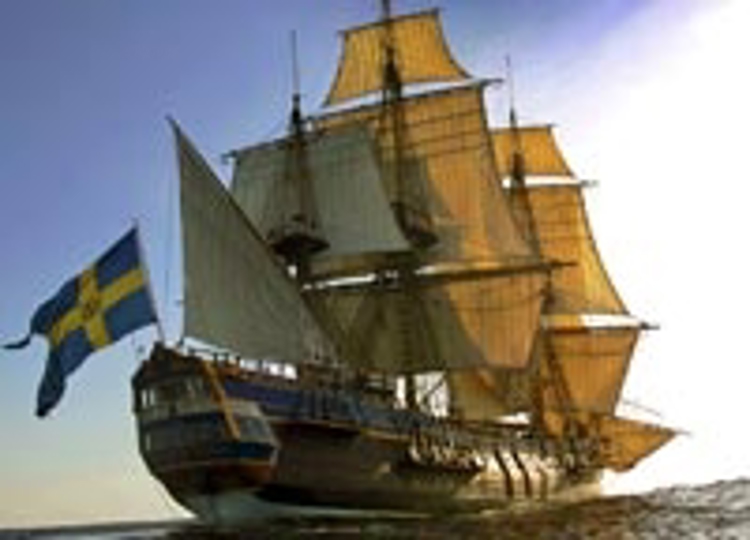 KONGSBERG is an official sponsor of one of the world's largest wooden sailing ships, the Götheborg. A replica of a vessel owned and operated by the Swedish East India Company, founded in Gothenburg in 1731. The Götheborg benefits from many moderns systems including the KONGSBERG DataChief C20 automation and control system.
Maiden voyage
The keel of the 'modern' East Indiaman was laid on 11 June 1995. Production began a year later with framing (the frames form the vessel's ribs). On 6 June 2003, the vessel's hull was ready for launch, and the time since then has been busy fitting out and preparing for the maiden, two year voyage to Canton, China.
On October 2nd 2005, the East Indiaman SPS Götheborg left Gothenburg for her journey to Canton, China. The farewell was magnificent and about 700 small ships and boats followed her to sea.
Volvo Ocean Race
After 34 days at sea Götheborg reached Vigo, Spain and the ship's cannons started the Volvo Ocean Race on November 7th. Today, Götheborg is on her way to Recife, Brazil. The ETA is December 30th.
Adjustements needed
How has the DataChief C20 worked so far in a ship, which looks like an old lady from the 18 century and with an intellect from the 21 century? Hans-Erik Emanuelsson, Chief Engineer Officer, reports…
"Well, the first two weeks after leaving Gothenburg we were busy adjusting alarm set points especially for fuel oil and feed water tanks. We found the button "Scan Off" very useful (especially at night). After a couple of weeks alarm delays and set points were adjusted and set to small ship tanks (9 cubic metres each).
Very useful
"All logic was tested out and found very useful. The ventilation system consists of 14 systems, and can be operated in three modes. Grey water logic controls automatic discharge of 5 tanks. Shut off logic for bulkhead penetration in case of flooding was one of the demands from DNV.
"The local operating stations are a great hit. The ship has no watertight doors between bulkheads. This gives us a lot of exercise running up and down into the different technical compartments!"
All in all the first voyage of this stunning ship is going well!