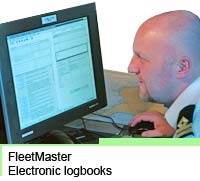 As a result of collaboration between KONGSBERG and the Torvald Klaveness Group, on the 4th May 2005 M/V Cemstar became the first cement vessel to go into operation with an electronic logbook. The new M/V Cemstar Electronic Logbook is based on the KONGSBERG Electronic Logbook and was specifically developed for the vessel.
All data is electronically stored
KONGSBERG is at the forefront of marine IT with the FleetMaster system enabling great changes in how logbooks are kept. Although paper based logbooks will be retained as a fallback plan, all data will from now on be stored electronically and four separate logbooks (Deck Log, Engine Log, Oil Record Book part 1 and Port Log) will register all activities regarding loading, discharging and bunkering.
Easy data transfer
The Electronic Logbook system consists of shipboard data management via the electronic logbook and an onshore database accessed by ship managers and operational departments for statistics and planning purposes. The ease of transferring data over IP and wireless communications to shore using Electronic Logbooks makes it possible for M/V Cemstar reports to be made available to Heidelberg Norcem, M/V Cemstar's client.
Works brilliantly
"This has been an extremely rewarding project to work on and it is a great pleasure for KONGSBERG to see yet another successful transition from paper books to Electronic Logbooks ," says Bjarne Bjørkan Product Manager. "The M/V Cemstar crew has been very involved throughout the development process and I believe that together we have created a system which works brilliantly for this type of vessel."