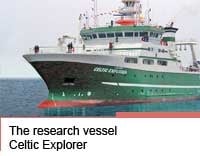 IMAR Survey Limited has announced the acquisition of the latest suite of shallow and medium depth multibeam echo sounder systems from KONGSBERG. The new suite includes EM 3002 dual transducer head multibeam system (now available as the EM 2040) with Seafloor Information System, EM 1002 and EA 400 SBES.
Detailed seafloor mapping
The EM 3002 is an advanced multibeam echo sounder with extremely high resolution and dynamically focused beams. It is suited for detailed seafloor mapping and inspection with water depths between 0.5 and 150 meters. Due to its electronic pitch compensation system and roll stabilized beams; the system performance is stable even in foul weather conditions.
Applications
Typical applications of the multibeam package include:
Mapping of harbours, inland waterways and shipping channels with critical keel clearance
Inspection of underwater infrastructure
Detection and mapping of debris and other underwater objects
Detailed surveys related to underwater construction work or dredging
Environmental seabed and habitat mapping
Mapping of biomass in the water column
Each of the new systems has been supplied with Kongsberg's Neptune, Triton and Poseidon post-processing packages.
Third year surveying
IMAR's hydrographic survey team continues to play a major role in the Irish National Seabed Survey. In association with Maritech Consultants Ltd, the team has recently returned to Seabed Survey to begin its third year surveying with the Irish Marine Institute, providing senior hydrographic personnel and expertise for the research vessels, 'Celtic Explorer' and 'Celtic Voyager'.
Estuarial and harbour areas
Since 2003, the hydrographic and charting team has completed surveying more than 60,000 km in depths ranging from 50 to 200 metre and surveyed a number of estuarial and harbour areas using KONGSBERG EM 3000 and EM 1002 multibeam systems to LINZ order 2/1 survey standard.