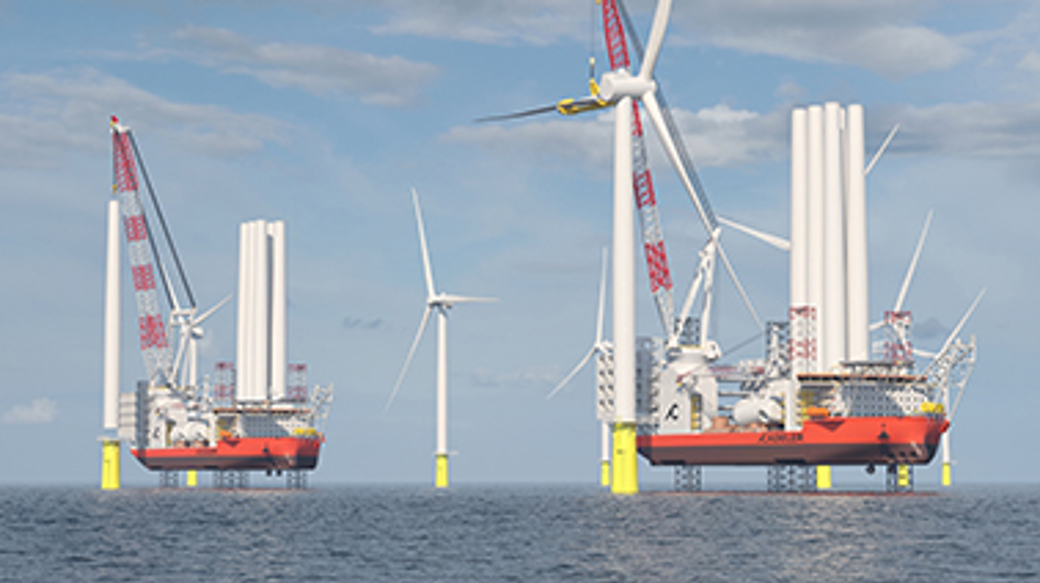 Boosting sustainability with vessel technology in the offshore wind industry
By delivering the world's most advanced technology systems available for wind turbine installation vessels, Kongsberg Maritime is improving vessel performance, worker safety and energy efficiency. "The solution we have devised for wind turbine installation vessels indicates how much thought and effort we devote to facilitating and encouraging sustainable marine operations," says Egil Haugsdal, President of Kongsberg Maritime
Offshore wind farms have the potential to produce more electricity than the world needs. Highly efficient at harvesting wind energy, turbines are becoming larger, taller and more powerful. Moreover, wind farms are moving farther and farther out to sea. All these factors make turbine installation expensive for the companies and hazardous for the workers. In addition, most wind turbine installation vessels (WTIVs) run on fossil fuels. This means they have a sizeable carbon footprint, even though wind farms themselves produce clean energy.
To meet these challenges, innovations are needed that lower costs, improve worker safety and reduce fuel consumption and carbon emissions in the offshore wind industry.
State-of-the-art solutions for WTIVs
By combining advanced technologies from our product lines we are addressing the specific needs of WTIVs. The state-of-the-art dynamic positioning (DP) system cooperates with the integrated propulsion system, energy control system and sensors, ensuring accurate operation with heavy loads.
These are integrated with various systems, such as engines, electrical systems including batteries, deck machinery, and control and safety systems, to provide superior vessel performance.
The Kongsberg Maritime WTIV solution substantially reduces costs associated with wind farms. Shipyards will save engineering hours and cabling and installation work, while owners and operators will see lower operating expenses thanks to more efficient installation operations. Ship designers can work together with us on solutions that free up space and reduce vessel weight on newbuilds, ensuring optimal efficiency.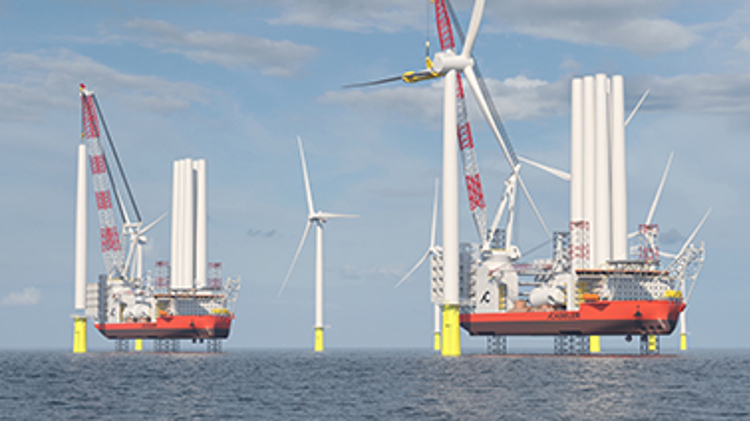 Putting worker safety and energy efficiency at the forefront
The Kongsberg Maritime WTIV solution improves worker safety through various means. Optimal positioning of the vessel and crane towards the installation puts workers in the safest position to carry out their tasks on tall turbines in open seas. Moreover, the WTIV solution allows crew members and engineers to access the most recent data available, creating a working environment that ensures safe and accurate operations.
The technology also reduces the carbon footprint of WTIVs. Tailored energy control functions optimise the vessel's energy efficiency, and the battery-hybrid electrical system includes advanced ThrustAllocator™ and PowerBoost™ functionalities that can reduce the number of engines online and the amount of fuel required for crane operations and DP manoeuvring.
Moreover, we provide a solution for power regeneration from the jacking system and cranes. To minimise downtime and further reduce the environmental footprint, we have developed a new onboard environmental advisory system called EcoAdvisorTM.
Leading player in the expanding offshore wind market
The offshore wind market is projected to reach USD 1 trillion by 2040 and is expected to drive demand for WTIVs with improved performance and greater energy efficiency. We will help to meet this demand with our state-of-the-art technology.
Recently, a contract totalling USD 57 million was signed with the Chinese shipbuilder COSCO Shipping (Qidong) Offshore. Comprehensive technology packages will be supplied for two new WTIVs, which COSCO is constructing for the Denmark-based service provider Cadeler.
"Cadeler is committed to providing safe, high quality and reliable offshore services, with a strong focus on safety and the environment," says Mikkel Gleerup, CEO of Cadeler. "KONGSBERG's innovative WTIV solution will help us to pursue new levels of efficiency and enable the world's transition to a future built on offshore renewable energies."
The first of the new WTIVs, which will service the European renewable energy market, is expected to be delivered before the end of Q3 2024. The second is expected by Q1 2025.
This article was first published at http://www.theexplorer.no, the official marketplace for green and sustainable technology from Norway.