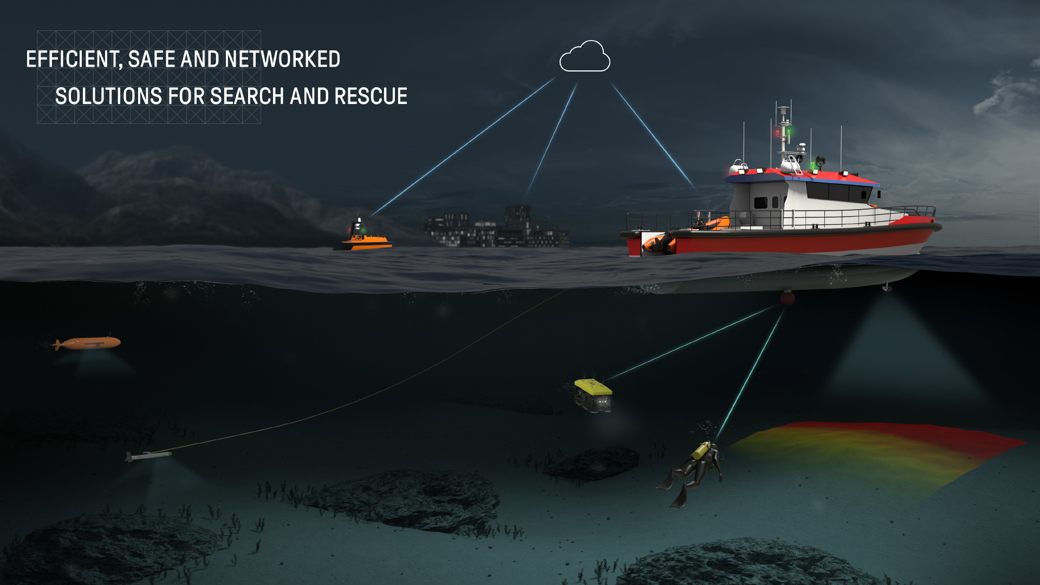 KONGSBERG systems take the guesswork out of Search & Rescue operations
Efficient, safe and networked solutions for search and rescue
In terms of conveying the indispensable importance of subsurface positioning technology to Search & Rescue (SAR) operations, no one puts it more starkly than Sgt Rob Riffle, a dive team supervisor with Winnipeg Police Services, who soberly remarks: 'Sending a police officer underwater in zero visibility without scanning sonar is like sending an officer on patrol without a bulletproof vest'.
KONGSBERG prides itself on the safe, networked solutions it delivers to the SAR community, ranging from single systems to fully integrated concepts. At the smaller end of the spectrum, the MS1000 High-Resolution Scanning Sonar's software can convert any standard PC into a fully-operable sonar processor without requiring extra hardware. The tripod-mounted sonar system enables supervisors on the surface to pre-identify potential entanglement threats to divers, while its high-resolution screen image allows supervisors to guide divers to their targets even in zero-visibility conditions.
One of the most commonly adopted instruments in underwater searches is the towed side-scan sonar: Kongsberg Maritime's easily deployed, simple to operate PulSAR Side-Scan Sonar acquires detailed, high-resolution images of the seabed terrain, and any objects/targets upon it, up to depths of 300m with the use of a robust towfish, controlled from a water-protected deck unit with a cable hand reel or portable electric winch (for depths greater than 30m).
High-accuracy monitoring of divers, equipment or underwater vessels in SAR operations will require the use of an acoustic positioning system, typified by KONGSBERG's HiPAP and µPAP products. For example, the compact MicroPAP (µPAP) system can be used to track, say, towfish or divers by attaching a cNODE MiniS transponder – the smallest in KONGSBERG's cNODE series – to the tow wire or diver. The MicroPAP system simply requires a cNODE MiniS transponder, a MicroPAP transducer and transducer cable, an interface box, a USB-to-serial port and a laptop, providing operators with a full tracking overview of, eg, a diver's whereabouts and movements. Multiple targets can be simultaneously tracked and logged for documentation or post-mission analysis.
USVs and AUVs are imperative devices for eliminating risk to rescue crews, signposting a practicable route for the future of SAR. KONGSBERG's adaptive Hugin AUV and Sounder USV systems represent elegant, common-sense solutions to a vast assortment of SAR issues, particularly in hazardous conditions or where SAR organisations are short-manned. Marine robots of this nature can also search large areas more quickly than was previously possible, locating objects of interest and/or emergency beacons and providing high-resolution data which can then be analysed in any global location via the Ocean Insight functionality in KONGSBERG's Kongifai digital ecosystem. Recent recognition of the Sounder's merit comes with the news that it has won the Offshore Support Journal's 2020 Subsea Innovation Award.
USV and AUVs are imperative
for eliminating risk to rescue crews, signposting a practicable route for the future of SAR.
A powerful, reliable communications link between rescue vessels and onshore staff is of paramount significance: KONGSBERG's MBR (Maritime Broadband Radio) provides a standalone, high-capacity digital communications channel offering 'fast track' priority options. MBR enables data (such as real-time video and system data) to be transferred at high speeds, and boasts Beyond Line-Of-Sight (BLOS) transmission capabilities for maximum effectiveness. It allows multiple rescue units and remotely situated teams to work collaboratively and receive crucial mission-specific information prior to arriving at a search and rescue site.
A new technological development is KONGSBERG's compact, lightweight Flexview multibeam imaging sonar, designed to be mounted on small Observation Class ROVs (Remotely Operated Vehicles), either as an independent search tool, a means of supporting dive operations or for conducting pre-dive assessments of targets, potential hazards and other relevant factors.
The popularity of KONGSBERG technology in the SAR field speaks for itself. It is already being used by fire, police, rescue and underwater recovery teams, as well as navies and air force squadrons, across the USA and Canada, as well as police forces in Australia, New Zealand, Hong Kong, South Africa and the UK.