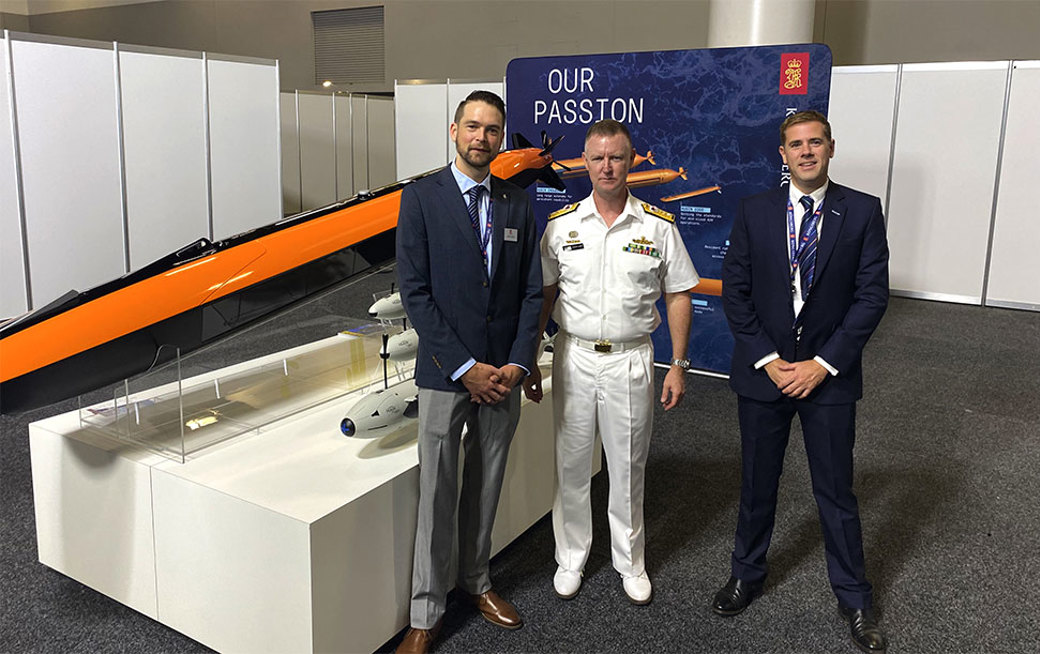 KONGSBERG MARITIME BACK DOWN UNDER
Kongsberg Maritime personnel from the UK, Norway, Singapore, USA and Western Australia converged on Sydney, Australia, for INDO PACIFIC 2022 International Maritime Exposition. There they had the honour of meeting with Commonwealth and industry participants and members of the Australian Defence Force and international Navies alike.
Kongsberg's ongoing commitment to supporting Australia's leading position in the adoption of Maritime Robotics and Autonomous Systems (RAS) was showcased through static displays of Kongsberg's latest advancement in Autonomous Underwater Vehicle (AUV) and sensor technology.
The Hugin Edge AUV, released in Q2 2022 is a mid-size AUV and is the newest member of the HUGIN family of AUVs. The new design combines elements of HUGIN's carbon monocoque approach used with success for the last 20 years coupled to extensive hydrodynamic modelling to refine the hull's low-drag shape. HUGIN Edge stands out as a next-generation vehicle designed specifically to answer the performance and efficiency challenges set by the modern world.
Kongsberg continues to grow in Australia, having recently hired Mark Roberts and Henry Johnson to support the expansion of the Marine Robotics and Sensors Robotics divisions in Australia. Industry support arising from programs such as the Australian Hydrographic Office's (AHO) HydroScheme Industry Partnership Program (HIPP) have been instrumental in these appointments, enabling Kongsberg to grow the local footprint.
Kongsberg group of companies, including Kongsberg Maritime's sister company Kongsberg Defence Australia , which recently announced the selection of its Naval Strike Missile (NSM) to replace the Harpoon anti-ship missile in the ANZAC Class frigates and Hobart Class destroyers, employs 74 full time staff in in Australia, with another 7 positions under active recruitment. Kongsberg maintains offices in Christchurch (NZ), Fremantle (WA), Henderson (WA), Melbourne (VIC), Canberra (ACT), and manufacturing facilities in Adelaide (SA).
Demonstrating the strong bond between Norway and Australia, the team had the pleasure of meeting with the Norwegian ambassador to Australia. Jamie Kilsby, Kongsberg Maritime country manager commented
"Norwegian businesses have a strong footprint in Australia, none more so in the Defence industry than Kongsberg. Both Kongsberg Defence Australia and Kongsberg Maritime currently support in-service Australian Defence forces on land and sea and are actively tendering for future Defence contracts. During the Indo Pacific Expo, Kongsberg were delighted to have the support of the Royal Norwegian Embassy in Canberra, led by His Excellency Paul Gulleik Larsen".
Following INDO PACIFIC 2022, which achieved its greatest ever exhibitor turnout and is believed to be the largest defence industry event ever held in Australia, the team travelled south to Jervis Bay to participate in the Royal Australian Navy's (RAN) International Maritime Robotics and Operational Experimentation (RAS OPEX) exercise, Autonomous Warrior 2022 (AW22).
----
Welcomed by the Director General Warfare Innovation Navy, Commodore Darron Kavanagh, and by the peoples of the Dhurga and Dharawal language groups, the Kongsberg team were honoured to take part in a truly special Welcome to Country which included a traditional smoking ceremony and 'spear break' dance that depicted ancient warriors breaking their spears before their visitors as a sign of acceptance and trust. This tradition was an eye-opening experience for some of the international travellers, and no doubt something that will stay with us for the rest of our lives.
Richard Mills (Vice President Marine Robotics Sales) and Richard Patterson (Dir. of Sales for Marine Robotics - Defence) went on to provide Australian and International defence personnel demonstrations of Kongsberg Maritime's AUV mission management and post mission data analysis software platforms, HuginOS and Reflection. The demonstrations included mission planning for MCM and Military Survey operations and analysis of data collected from various HUGIN AUVs performing similar missions. The event was a great way to showcase how 30 years of continuous AUV development and real-world operations have resulted in a family of AUVs unrivalled in capability.
Trond Myrstad (Snr Sales Manager) and Jørgen Nordseth (Support Engineer), with support from local company Greenroom Robotics, put to the test the class-leading capability of Kongsberg's Maritime Broadband Radio (MBR). The system offers unrivalled range and throughput, enabling high bandwidth and low latency data transfer, an ever-important aspect for safe and efficient operation of remote and autonomous platforms and sensing technologies.
Harry Hubbert of Greenroom Robotics commented "The Kongsberg MBR system exceeded all expectations, both in performance and ability to integrate. The Greenroom Robotics team fully integrated the radios and supporting software within hours into our Platform, we are looking forward to ongoing integration and applications for future capability."