Platform supply vessel design - UT 771 WP PSV
Delivering excellence in rough conditions. Medium-sized platform supply vessel delivering excellent sea-keeping for medium to long passages.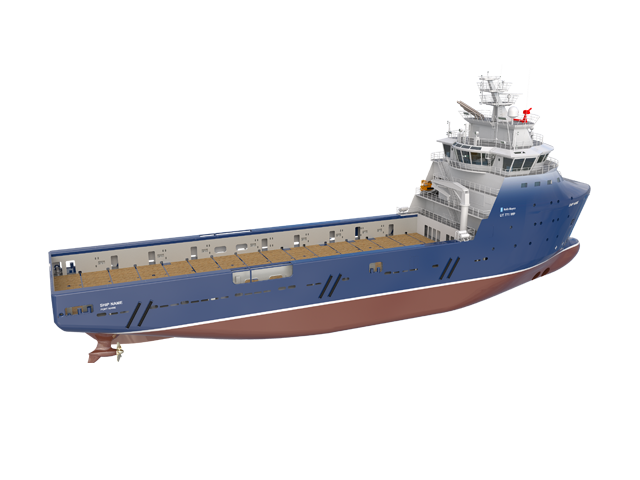 Designed for supply duties between land and offshore installations
UT 771 WP is a medium-sized platform supply vessel that undertakes supply duties between land bases and offshore installations. This model is specially designed for medium to long passages between its destinations, and has an optimised hull form that delivers excellent sea-keeping, high speed under rough weather conditions and large cargo capacities. It is designed for diesel electric medium or high speed machinery and Azipull propulsion system. In addition to being a pipe carrier the UT 771 WP can undertake subsea and rescue and oil recovery services, and has a deck size of 830 sq.m. The vessel can be equipped with ROVs, DP 2 service, firefighting equipment, cargo rail cranes and safer deck operations. The cargo deck has a deckload of 10 t/sq.m.
Delivering excellence in rough conditions
Side
Aerial
Front
Aft
Services & aftermarket support
Our support teams, located worldwide, are committed to helping you manage the vital balance between operational availability and cost. Wherever your vessel is located, our support is close at hand.
Services and support
24/7 Technical support

Our 24/7 technical support team is there to help at any time, day or night, wherever your vessel is.

CONVERSIONS, RETROFIT AND REFIT

We understand the importance of having the right parts, available in the right place, at the right time.

Training

Ensure that your crew is properly and thoroughly trained. This will reduce operational risk, downtime and maximise return on asset investment.