Forage carrier desgn - NVC 481 LNG forage cargo
Bringing efficiency to fish feed transport. Perfectly equipped for transporting fish feed to fish farms thanks to a dynamic positioning system and air-pressurised cargo transferal.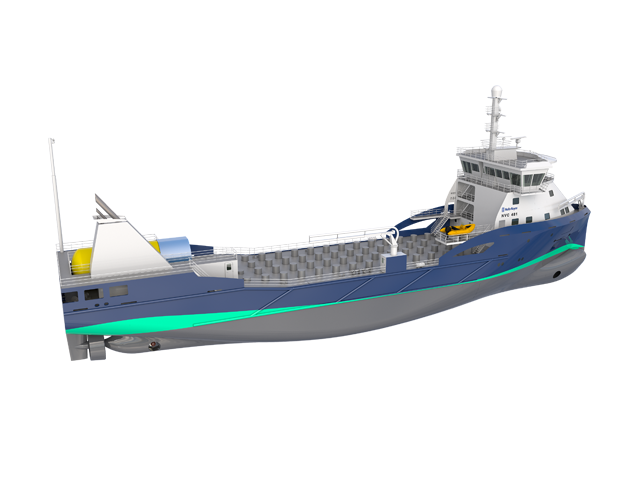 Gas-fuelled propulsion solution gives service speed of 15KN
NVC 481 LNG is a 1,450 TDW cargo vessel, arranged for efficient transport of fish feed to fish farms. The vessel is equipped with our complete gas-fuelled propulsion solution with a service speed of 15KN. The vessel is positioned with the bow towards the fish farm raft by a dynamic positioning system, and the cargo is transferred over the bow automatically by pressurised air through a telescope crane. The cargo tanks can hold up to 1,200 cu.m of cargo. The NVC 481 has a 2,000 NM endurance without refilling.
Bringing efficiency to fish feed transport
INTEGRATION OF EQUIPMENT
Integrated systems tailored to your needs
Innovation underpins everything we do. Our world-leading technology, coupled with decades of operational experience, enables us to design, build, deliver and support fully integrated system solutions for the marine industry.
These bespoke systems, developed in close co-operation with our customers, are designed to deliver lower life-cycle costs and reduce the environmental impact of operations.
SERVICES & AFTERMARKET SUPPORT
Our support teams, located worldwide, are committed to helping you manage the vital balance between operational availability and cost. Wherever your vessel is located, our support is close at hand.
Services and support
24/7 Technical support

Our 24/7 technical support team is there to help at any time, day or night, wherever your vessel is.

Contact us:

Spares

We understand the importance of having the right parts, available in the right place, at the right time.

Training

Ensure that your crew is properly and thoroughly trained. This will reduce operational risk, downtime and maximise return on asset investment.