Simrad ES38B
Simrad ES38B er en 38 kHz høyeffekts "split beam" svinger
Simrad ES38B er en 38 kHz høyeffekts "split beam" svinger basert på 88 piezo-keramiske elementer distribuert over fire kvadranter.
Fiskeleting
Fiskeri forskning
Merk at disse spesifikasjonene kan endres uten forutgående varsel. For komplette spesifikasjoner, se svingerens dataark.
Frekvens: 38 kHz
Sirkulær strålebredde: 7° ± 1°
Maksimal tilført pulseffekt: 4000 W
Maksimal installasjonsdybde: 50 m
Kabellengde: 20 m
Vekt uten kabel: 40 kg
Fysiske mål:

Diameter: 480 mm
Høyde: 150 mm
Svinger, komplett: KSV-074531
Støtteskinne: 099-206575 (*)
Monteringsring: 499-074076 (*)
(*) Disse gjenstandene må bestilles separat.
Følgende tegninger kan lastes ned.
[065080] Arctic tank, outline dimensions
[065238] Arctic tank, installation
[074076] Transducer mounting ring
[074077] Steel blister
[074544] Transducer mounting arrangement
[074674] Transducer outline dimensions
[082733] Steel blister
[088759] Transducer mounting procedure
[133807] Steel tank
[206574] Support beam, mounting
[206576] Support beam, drilling template
Så fremt formatene finnes er hver tegning gjort tilgjengelig på både PDF og DWG format. Når DWG finnes, er denne filen lagt inn i PDF-filen som et vedlegg.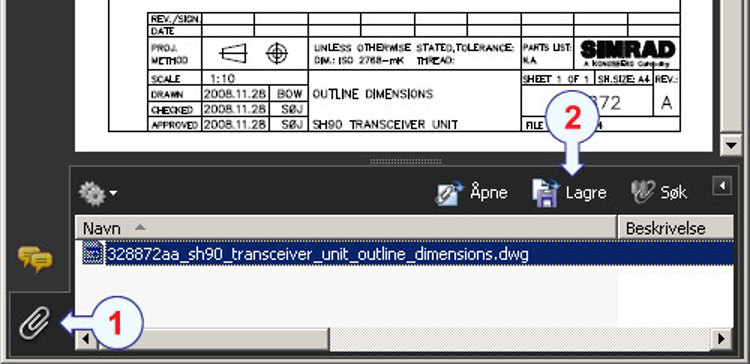 Tjenester og support
24/7 Technical support

Our 24/7 technical support team is there to help at any time, day or night, wherever your vessel is.

Conversions, retrofit and refit

We understand the importance of having the right parts, available in the right place, at the right time.

Training

Ensure that your crew is properly and thoroughly trained. This will reduce operational risk, downtime and maximise return on asset investment.