Harwich Haven Authority (HHA) is one of the UK's major Trust Ports and its jurisdiction covers the River Stour, the lower part of the River Orwell, Harwich Harbour and 12 nautical miles of seaward approaches. The Haven Ports handle a wide variety of vessels from the largest container vessels in operation to the smallest leisure vessels.
"The Authority is very focused on meeting our custome
rs' requirements, not only current VTS and PMIS requirements, but also has an ambitious and innovative vision for future requirements such as e-navigation and autonomous shipping; Kongsberg Norcontrol shares that vision and ambition and has the required capability and potential for growth," says Sarah West, Chief Executive Officer, Harwich Haven Authority.
Steve Guest, Managing Director, Kongsberg Norcontrol Ltd commented: "Robust tracking of such a diverse mix and size of ship types within the Haven is fundamental to any VTS system and requires smart tracking and sensor fusion algorithms using all available tracking sensors, especially radar. Our 7th generation C-Scope VTS system excels in this respect and ensures that VTS operators are provided the right information, at the right time for informed decision making. The decision support tools provided are highly configurable and ensures only meaningful alerts are provided."
Nick Lambert, Head of Business Systems, Harwich Haven Authority identified compliance to the Network & Information Systems (NIS) Regulations as a critical success factor for the project. Nick explained "as an Operator of Essential Services (OES) we must demonstrate ongoing compliance with NIS. Kongsberg Norcontrol clearly demonstrated their knowledge, experience, and competence in this area."
"What we saw during the contracting process was an intelligent and configurable Port Management Information System, that would support development of a purpose-built pilot and pilot launch planning tool. This was backed up with a solid understanding of the requirement and a willingness to partner on delivering a solution."
Brendan Mitchell, PMIS Product Manager, Kongsberg Norcontrol commented: "I am really excited about this project as it will enable us to expand our existing PMIS functions and the platforms on which they are delivered.
"The Artificial Intelligence we demonstrated during the recent e-navigation SESAME Solution 2 Just in Time work package forms the perfect building block for further optimising resource allocation for Harwich Haven Authority's pilotage services.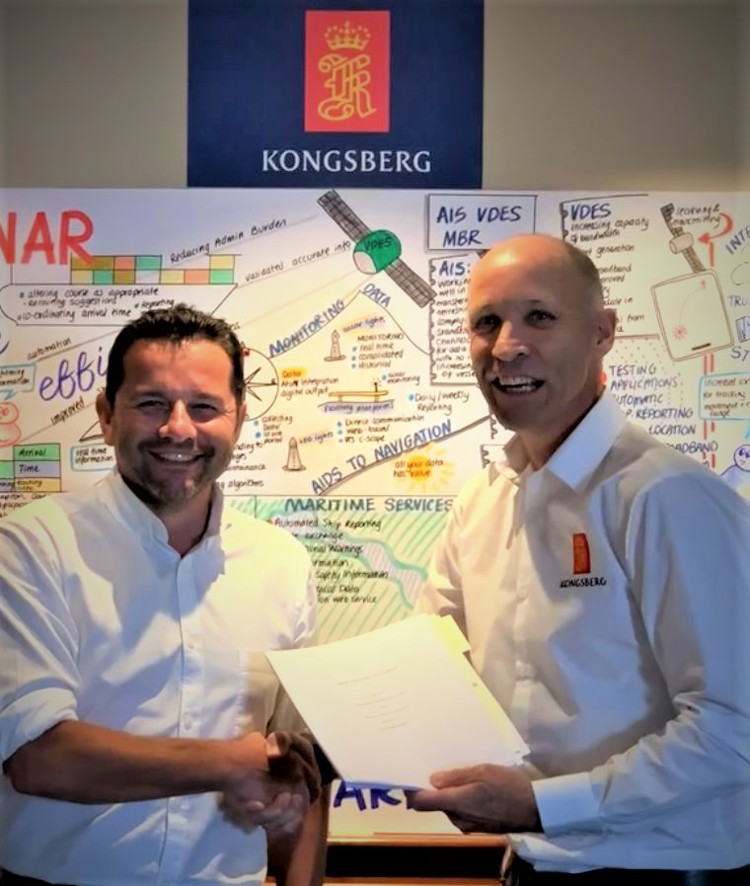 Nick Lambert, Head of Business Systems, Harwich Haven Authority and Steve Guest, Managing Director, KNC Ltd.