Simrad SH90
The Simrad SH90 is a fishery sonar offering high resolution and high frequency.
360° Omnidirectional sonar
90° Vertical tip
114 kHz operational frequency
Narrow beams
Chirp FM transmission
Large dynamic range
High definition
Stabilized beams
Dual beam operation
Easy operation
Store and recall sonar data
Define your own user settings
Clear and easily comprehensible sonar images
In this screen capture from the North Sea you can see that a 10 ton school of tuna has been detected, and that tracking has started. The tracking functionality is vital for the success of the catch. The Simrad SH90 allows you to track the school all the way to the vessel without losing any information. Then, when the seine is set, the skipper has full control, and he is able to maximize the catch.
Note the noise and clutter-free screen. This enables the skipper to focus on the targets, without acting as a "human filter". The Simrad SH90 provides detailed information about school density, speed, depth, heading and size. The high frequency Simrad SH90 is the natural choice as a companion to the Simrad SX90 low frequency sonar.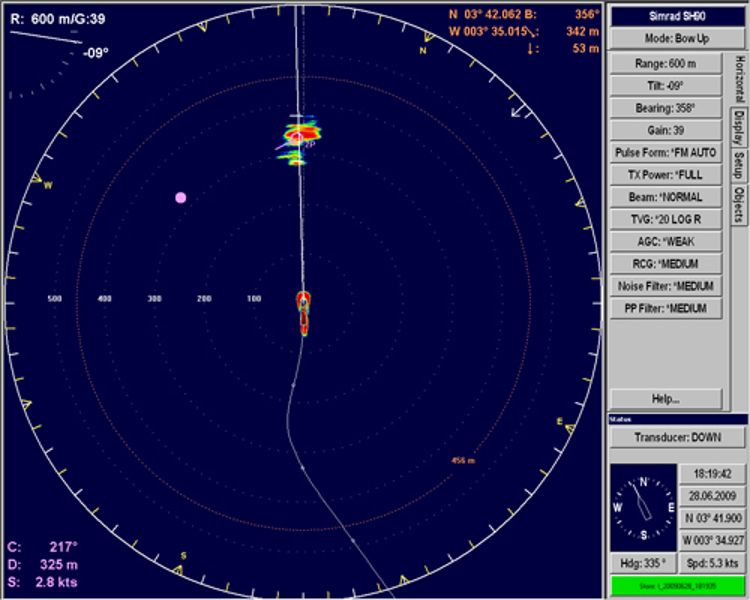 Services and support
24/7 Technical support

Our 24/7 technical support team is there to help at any time, day or night, wherever your vessel is.

Conversions, retrofit and refit

We understand the importance of having the right parts, available in the right place, at the right time.

Training

Ensure that your crew is properly and thoroughly trained. This will reduce operational risk, downtime and maximise return on asset investment.