Meet our electronics engineer, Steinar
From Circuit Boards to Moon Landings
As a Senior Project Engineer at Kongsberg Defence & Aerospace, Steinar has spent the past 11 years working on the development of electronics for advanced products with important purposes. He describes himself as a 'technology nerd' who likes to understand the physics and theory behind the technology, and believes that Norway must be at the forefront of defence technology to maintain a strong defence structure.
'It's a truly unique experience to work with such advanced technology and to see how our solutions contribute to groundbreaking projects in space and defence'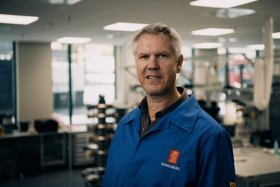 "For me, it has always been important to be part of a strong professional environment, and to work on projects that really challenge me. I believe that's what keeps us sharp and motivated, no matter how far we've come in our careers"
Facts about eWorks:
eWorks is the electronics and FPGA professional environment at Kongsberg Defence & Aerospace (eWorks@KDA).

The eWorks department designs and develops most of the electronics for all of KDA's product groups, across divisions and departments.

The main areas for the eWorks department are architecture, design, and layout/PCB of circuit boards, FPGA development, development of automated test systems for electronics, and Component Services.

Currently, eWorks consists of about 90 employees distributed across locations in Kongsberg, Asker, Kjeller, and Moss, and now we are looking for electronics and FPGA resources for all locations.