Simrad ES38B
Simrad ES38B est un transducteur split beam 38 kHz de forte puissance
Le Simrad ES38B est un transducteur split beam comprenant 88 éléments céramiques répartis sur quatre quadrants.
Echosondeurs de pêche
Echosondeurs scientifiques
Notez que les caractéristiques peuvent être modifiées sans avis préalable. Pour des caractéristiques complètes, voir les fiches techniques.
Fréquence: 38 kHz
Largeur de faisceau circulaire: 7° ± 1°
Puissance d'impulsion maximum: 4000 W
Profondeur maximum du transducteur: 50 m
Longueur du câble: 20 m
Poids sans câble: 40 kg
Dimensions physiques:

Diamètre: 480 mm
Hauteur: 150 mm
Transducteur: KSV-074531
Supporting beam: 099-206575 (*)
Mounting ring: 499-074076 (*)
(*) Ces pièces doivent être commandées séparément.
Les schéma suivant peuvent être téléchargés.
[065080] Arctic tank, outline dimensions
[065238] Arctic tank, installation
[074076] Transducer mounting ring
[074077] Steel blister
[074544] Transducer mounting arrangement
[074674] Transducer outline dimensions
[082733] Steel blister
[088759] Transducer mounting procedure
[133807] Steel tank
[206574] Support beam, mounting
[206576] Support beam, drilling template
A chaque fois que cela est possible, les schéma sont fournis à la fois en format PDF et DWG. Dans le cas échéant, la version DWG du schéma est incluse dans le fichier PDF en tant que pièce jointe.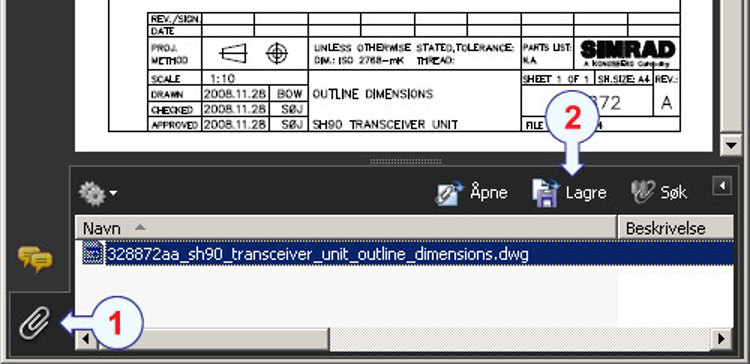 Services et support
24/7 Technical support

Our 24/7 technical support team is there to help at any time, day or night, wherever your vessel is.

Conversions, retrofit and refit

We understand the importance of having the right parts, available in the right place, at the right time.

Training

Ensure that your crew is properly and thoroughly trained. This will reduce operational risk, downtime and maximise return on asset investment.