Simrad ES70 Echosondeur de pêche
Le Simrad ES70 est un localisateur professionnel de poissons fins de grande précision unique et de split-faisceaux multiples.
L'écho-sondeur de pointe pour les utilisateurs professionnels et semi-professionnels.
Haute résolution - haute précision
Fonction zoom avec taille du poisson
Dureté du fond
Affichage innovant de la fonction gain
Echelle automatique continue
Ajustement automatique de la longueur d'impulsion
Paramètres utilisateur illimités
Utilisation facile et rapide
Fonction détection de fond améliorée
24 heures d'historique d'écran
Un système de menu en plusieurs langues
Jusqu'à six fréquences visibles simultanément
Optimisé pour les grands écrans (16:9)
La capture d'écran montre l' écho-gramme ES70 fourni par un Simrad ES38 split-faisceau du transducteur. Une zone de l'écho-gramme a été agrandie dans une des fenêtres d'informations supplémentaires utilisées pour révéler la position des poissons et la distribution de leur taille.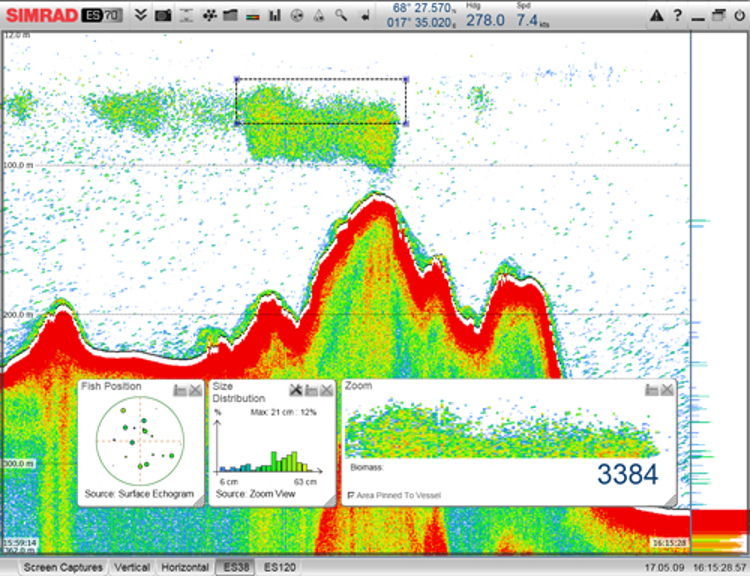 Services et support
24/7 Technical support

Our 24/7 technical support team is there to help at any time, day or night, wherever your vessel is.

Conversions, retrofit and refit

We understand the importance of having the right parts, available in the right place, at the right time.

Training

Ensure that your crew is properly and thoroughly trained. This will reduce operational risk, downtime and maximise return on asset investment.