Simrad ES38B
El Simrad ES38B es un transductor de 38 kHz, alta potencia de transmisión tipo "split beam"
El Simrad ES38B es un transductor "split-beam" que incorpora 88 elementos piezo-cerámicos distribuidos en cuatro cuadrantes.
Para ecosondas de pesca
Para ecosondas científicas
Estas especificaciones pueden modificarse sin necesidad de aviso previo. Si desea ampliar esta información consulte el catálogo específico.
Frecuencia: 38 kHz
Circular beamwidth: 7° ± 1°
Potencia máxima de entrada: 4000 W
Profundidad máxima transductor: 50 m
Longitud cable: 20 m
Peso con cable: 40 kg
Dimensiones físicas:

Diámetro: 480 mm
Altura: 150 mm
Transductor: KSV-074531
Pletina de soporte: 099-206575 (*)
Anillo montaje: 499-074076 (*)
(*) Estos elementos deben solicitarse explícitamente.
Puede descargarse los siguientes diagramas.
Siempre que es viable, incluímos los diagramas en ambos formatos: PDF y DWG. En ocasiones, la versión DWG del diagrma se incluye como adjunto al formato PDF.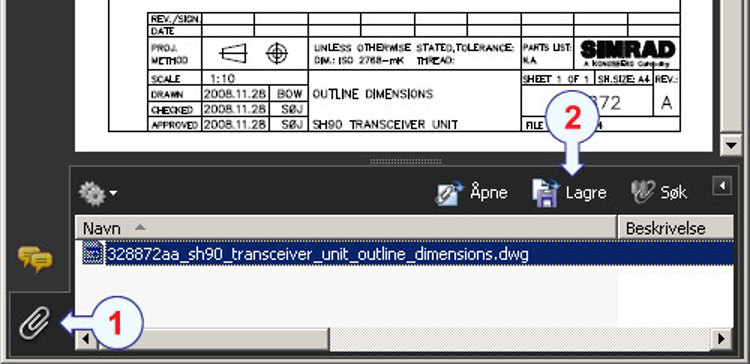 Servicios y soporte
24/7 Technical support

Our 24/7 technical support team is there to help at any time, day or night, wherever your vessel is.

Conversions, retrofit and refit

We understand the importance of having the right parts, available in the right place, at the right time.

Training

Ensure that your crew is properly and thoroughly trained. This will reduce operational risk, downtime and maximise return on asset investment.