Simrad SH90 Sonar para pesca
El Simrad SH90 es un sonar para la pesca profesional de alta resolución y alta frecuencia.
Sonar omnidireccional 360°
Inclinación vertical 90°
Frecuencia de trabajo, 114 kHz
Haz estrecho
Transmisión modo FM
Amplia escala dinámica
Alta definición
Haces estabilizados
Modo Dual
Fácil de manejar
Funciones Grabar y Recuperar datos
Ajustes a definir por el usuario
En esta captura de pantalla del Mar del Norte puede ver que se ha detectado un banco de 10 toneladas de atunes y que ha comenzado el rastreo. La funcionalidad del rastreo es vital para que la captura sea un éxito. El Simrad SH90 le permite rastrear el banco en toda su trayectoria hasta el barco sin perder nada de información. Así, cuando la red está preparada el patrón tiene un control total y es capaz de maximizar la captura.
Observe que la pantalla carece de ruido o de cualquier otro tipo de distracción, lo que permite al patrón poder enfocarse solo en los blancos sin actuar como "filtro humano". El Simrad SH90 ofrece información detalla de la densidad del banco, velocidad, profundidad, rumbo y tamaño. La alta frecuencia del Simrad SH90 es la elección natural para acompañar al sonar de baja frecuencia Simrad SH90.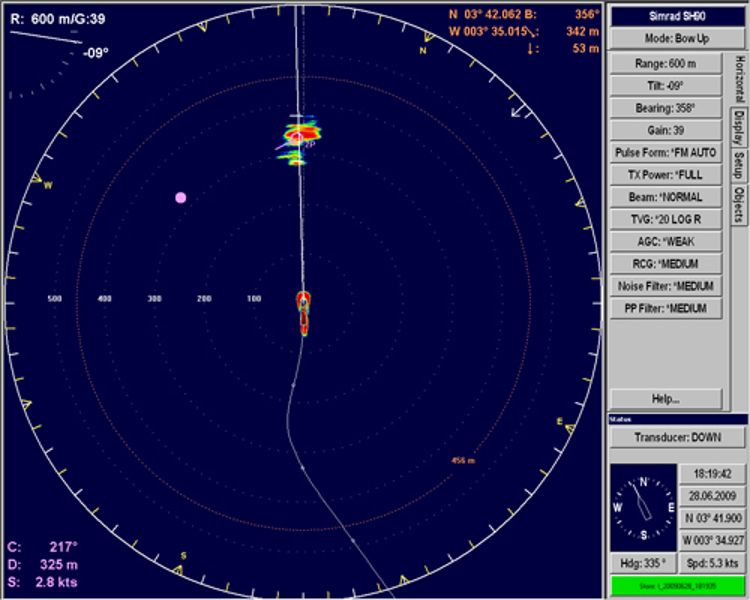 Servicios y soporte
24/7 Technical support

Our 24/7 technical support team is there to help at any time, day or night, wherever your vessel is.

Conversions, retrofit and refit

We understand the importance of having the right parts, available in the right place, at the right time.

Training

Ensure that your crew is properly and thoroughly trained. This will reduce operational risk, downtime and maximise return on asset investment.