Simrad ES70 Ecosonda para pesca profesional
La Simrad ES70 es una ecosonda multipropósito para la pesca profesional de gran precisión.
Ecosonda de última generación
Alta resolución - alta precisión
Función Zoom aplicada a la biomasa
Cálculo de la dureza del fondo
Innovadora función en el Ajuste de Ganancia
Alcance automático gradual
Longitud de pulso seleccionable
Número ilimitado de ajustes de usuario
Manejo rápido y sencillo
Función Detección Fondo, mejorada
24 horas de Históricos "en pantalla"
Menús multi-idiomáticos
Hasta 6 frecuencias simultáneas en pantalla
Presentación para pantallas (16:9) optimizada
La captura de pantalla de la ES70 muestra el ecograma ofrecido por el transductor single beam Simrad ES38. Se ha ampliado una zona del ecograma. También se usan paneles de información adicionales para mostrar la posición del pez y la distribución de las tallas.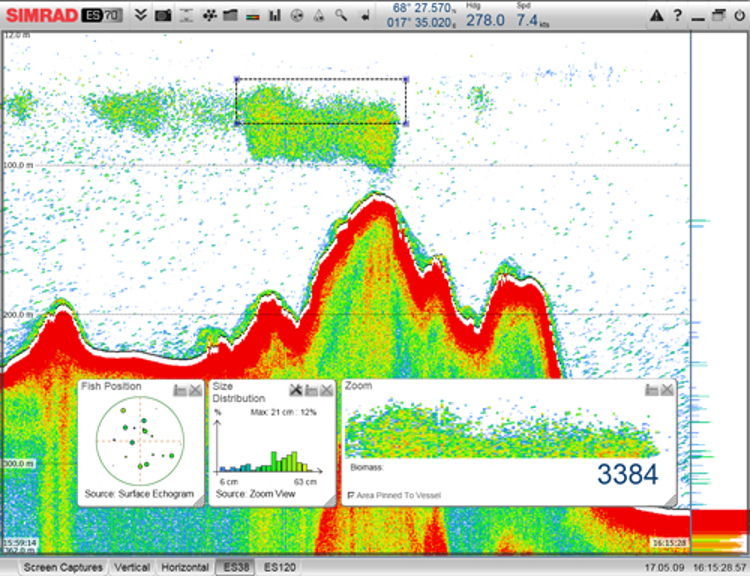 Servicios y soporte
24/7 Technical support

Our 24/7 technical support team is there to help at any time, day or night, wherever your vessel is.

Conversions, retrofit and refit

We understand the importance of having the right parts, available in the right place, at the right time.

Training

Ensure that your crew is properly and thoroughly trained. This will reduce operational risk, downtime and maximise return on asset investment.