Simrad SH90 Sonar for fiskeleting
Simrad SH90 er en fiskerisonar med høy operativ frekvens og høy oppløsning.
360° omnisonar
90° vertikal tipp
Operativ frekvens 114 kHz
Smale stråler
"Chirp FM" sendemodus
Stort dynamisk område
Høy oppløsning
Stabiliserte stråler
"To sonarer i en" presentasjonsmodus
Enkel betjening
Lagre og spill av skjermbilder
Definer dine egne brukerinnstillinger
I dette skjermbildet fangst fra Nordsjøen kan du se at en 10 tonns stim av tunfisk har blitt oppdaget, og at målfølging har startet. Målfølgingsfunksjonaliteten er avgjørende for å lykkes med fangsten. Simrad SH90 lar deg følge stimen helt frem til fartøyet uten å miste informasjon. Når nota er satt har du full kontroll, og er i stand til å maksimere fangsten.
Legg merke til fraværet av støy i sonarbildet, og den ryddige presentasjonen. Dette gjør at du kan fokusere på målet uten å samtidig jobbe som et "menneskelig filter". Simrad SH90 gir deg detaljert informasjon om stimens tetthet, fart, dybde, retning og størrelse. Den høyfrekvente Simrad SH90 sonaren er det naturlige valget som en følgesvenn til den lavfrekvente Simrad SX90 sonaren.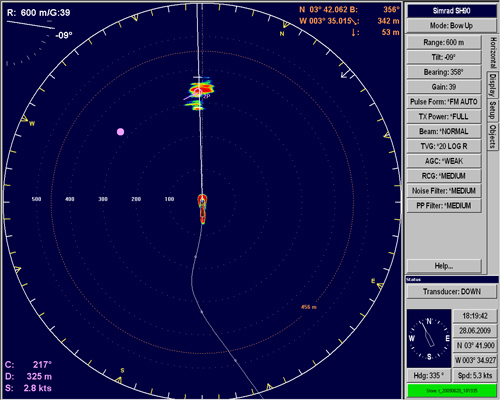 Tjenester og support
24/7 Technical support

Our 24/7 technical support team is there to help at any time, day or night, wherever your vessel is.

CONVERSIONS, RETROFIT AND REFIT

We understand the importance of having the right parts, available in the right place, at the right time.

Training

Ensure that your crew is properly and thoroughly trained. This will reduce operational risk, downtime and maximise return on asset investment.