Simrad SC90
The Simrad SC90 is a perfect "catching machine". It is ideal for mackerel, tuna and fish close to the bottom.
The combination of horizontal and vertical beams shows you the fish both from above with "birds eyes" and sidways as a "slice" - simultaneously. This gives you vital information about the school without having to pass over the it. Full beam stabilization maintains a clear picture of the target even in rough seas.
The SC90 is designed for fishing vessels of all sizes, both purse seiners and trawlers. The centre operational frequency is 85 kHz, but you can select any operational frequency from 82.5 to 86.5 kHz in steps of 0.5 kHz.
Key functionality
360 degrees omnidirectional
90 degrees vertical tip
Operational frequency adjustable from 82.5 to 86.5 kHz in steps of 0.5 kHz
Narrow beams
Linear FM transmissions (LFM)
Large dynamic range
High definition
Stabilized beams
Easy operation
Store and recall sonar data
Define and save your own user settings
Clear and easily comprehensive sonar data
16 transceiver boards provide 480 individual channels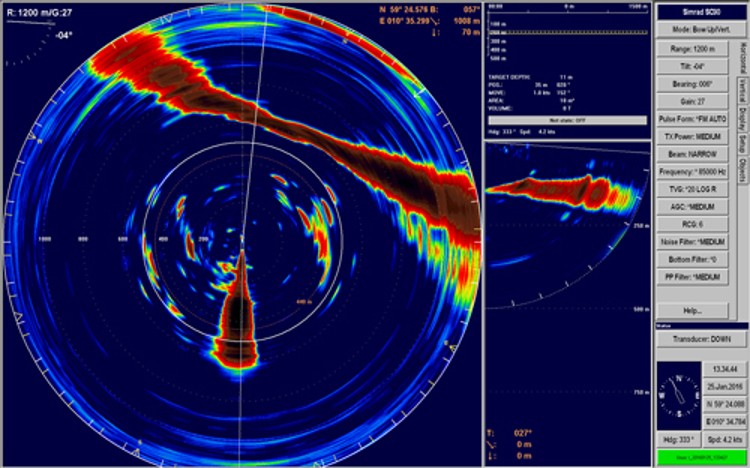 The cylindrical multi-element transducer allows the omnidirectional sonar beam to be tilted electronically from +10 to -60° in 1° steps. This allows you to automatically track schools of fish, and to observe the whole water volume around the vessel. A stabilizing system is included for electronic pitch and roll compensation.
Great emphasis has been placed on giving the best possible sonar presentations on a high resolution colour display.
The SC90 is equipped with Simrad's celebrated signal processing software. It includes Linear FM transmissions to ensure a clutter free picture with very high resolution in range.
The signal processing and beamforming is performed in a fast digital signal processing system using the full dynamic range of the signals. In addition to the traditional single frequency transceiver system, the SC90 contains an advanced frequency modulated filter system (FM).
The SC90 Processor Unit is controlled by the Microsoft® Windows® operating system. This allows for a flexible choice of presentation modes, and for a large range of user applications.
Services and support
24/7 Technical support

Our 24/7 technical support team is there to help at any time, day or night, wherever your vessel is.

Conversions, retrofit and refit

We understand the importance of having the right parts, available in the right place, at the right time.

Training

Ensure that your crew is properly and thoroughly trained. This will reduce operational risk, downtime and maximise return on asset investment.