Marine high level alarm switch - GL-7B
The Kongsberg GL-7B uses a capacitive measuring principle for level detection.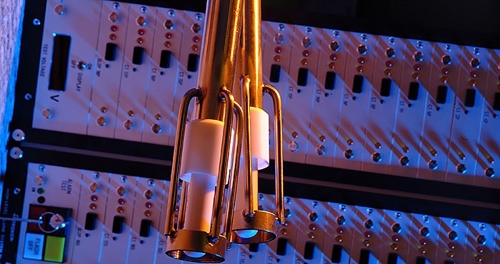 The capacitance is measured between the inner and the outer electrode ring. The inner electrode ring is insulated with PTFE, and the outer ring is made of acid resistant steel (AISI 316). If a liquid enters the gap between the two electrode rings, the capacitance will be altered. This change in capacitance is used to detect liquid / no liquid.
The GL-7B Level Switch can be used both in conducting and non-conducting liquids. The switches do not require any re-adjustment due to different types of cargoes (liquids). Both single and dual types are available. Functional test of switch and electronics is carried out by means of a small permanent magnet.
Standard features
Specially designed for high level detection in cargo tanks on chemical and oil product tankers
Long experience (delivered on ships since 1979)
Meets IMO requirements concerning "Cargo Tank Overfill Protection System"
Made of acid resistant AISI 316 steel and PTFE (Teflon)
The level switch is continuously monitored
Solid-state design – no moving parts
Intrinsically safe installation
Test possibilities on switch unit
Intelligent sensor with self-diagnostics
Suitable for JIS B2220 size 100 5K adapter
Certificates
EC-Type : TÜV 13 ATEX 124272X
IECEx : IECEx TUN 13.0030X
Approvals : DNV, ABS, BV, LR
Technical specifications
Power supply : 24 VDC (10 to 28 V)
Output signal : 4 to 20 mA, Normal = 8 mA, Alarm > 12 mA
Accuracy : ±1.0 cm
Type of protection : IP67 (housing)
Vibration : IACS E10 (max. 0.7g)
EMC : IACS E10
Operating temp .: -45 to 85°C (T4) / 70°C (T5)
Weight : Depends on sensor length (i.e. 10kg for double 1m sensor)
Material : Acid resistant steel AISI316 and PTFE (Teflon)
Connection : 2-wire 2.5 mm 2
Cable : Ø8-20.5 mm 2
Safety parameters : Ui = 28.0, VDCIi = 150 mA, Pi = 0.85 W, Ci = 21.2 nF, Li = negligible
Ex classification : II 1 G Ex ia IIC T4…T5 Ga
Services et support
24/7 Technical support

Our 24/7 technical support team is there to help at any time, day or night, wherever your vessel is.

Conversions, retrofit and refit

We understand the importance of having the right parts, available in the right place, at the right time.

Training

Ensure that your crew is properly and thoroughly trained. This will reduce operational risk, downtime and maximise return on asset investment.