Simrad ITI
Un système professionnel permettant le contrôle parfait de la géométrie de votre chalut.
L'ITI Simrad est un système acoustique complet de positionnement et de contrôle du chalut, visible sur écran. Il a été conçu afin d'améliorer le contrôle et l'efficacité des chaluts de fond et pélagiques.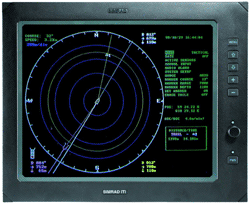 A la demande, lorsqu'il est fixé au chalut, le puissant capteur fonctionnant grâce à une batterie transmet des informations essentielles au navire. L'ITI Simrad permet d'afficher sur écran la position exacte de l'engin de pêche ainsi que tout se qui se passe à l'intérieur et autour afin d'apporter des informations cruciales pour une pêche efficace, rentable et responsable.
Services et support
24/7 Technical support

Our 24/7 technical support team is there to help at any time, day or night, wherever your vessel is.

Conversions, retrofit and refit

We understand the importance of having the right parts, available in the right place, at the right time.

Training

Ensure that your crew is properly and thoroughly trained. This will reduce operational risk, downtime and maximise return on asset investment.