Simrad SC90 Sonar de pêche
Le sonar Simrad SC90 est la «machine de capture» parfaite. Il est idéal pour les poissons comme le maquereau, le thon et les poissons proches du fond.
La combinaison de faisceaux horizontaux et verticaux vous affiche le poisson tant par le haut avec «un vue d'ensemble» que latéralement comme une «vue» - simultanément. Cela vous donne des informations essentielles relatives aux espèces sans avoir à les passer au-dessus. La pleine stabilisation du faisceau fournit une image claire de la cible même dans une mer agitée.
360 degrés omnidirectionnel
90 degrés en pointe verticale
Fréquence opérationnelle réglable de 82.5 à 86.5 kHz par intervalles de 0.5 kHz
Faisceaux étroits
Transmissions FM Linéaires (LFM)
Large plage dynamique
Haute définition
Faisceaux stabilisés
Facile à utiliser
Enregistrement et rappel des données
Définissez et sauvegardez vos propres réglages utilisateur
Images du sonar claires et facilement compréhensibles
16 panneaux émetteurs-récepteurs fournissent 480 canaux individuels.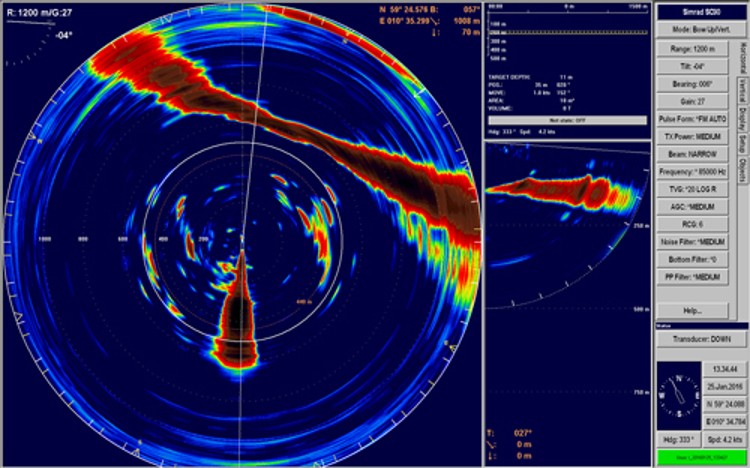 Services et support
24/7 Technical support

Our 24/7 technical support team is there to help at any time, day or night, wherever your vessel is.

Conversions, retrofit and refit

We understand the importance of having the right parts, available in the right place, at the right time.

Training

Ensure that your crew is properly and thoroughly trained. This will reduce operational risk, downtime and maximise return on asset investment.