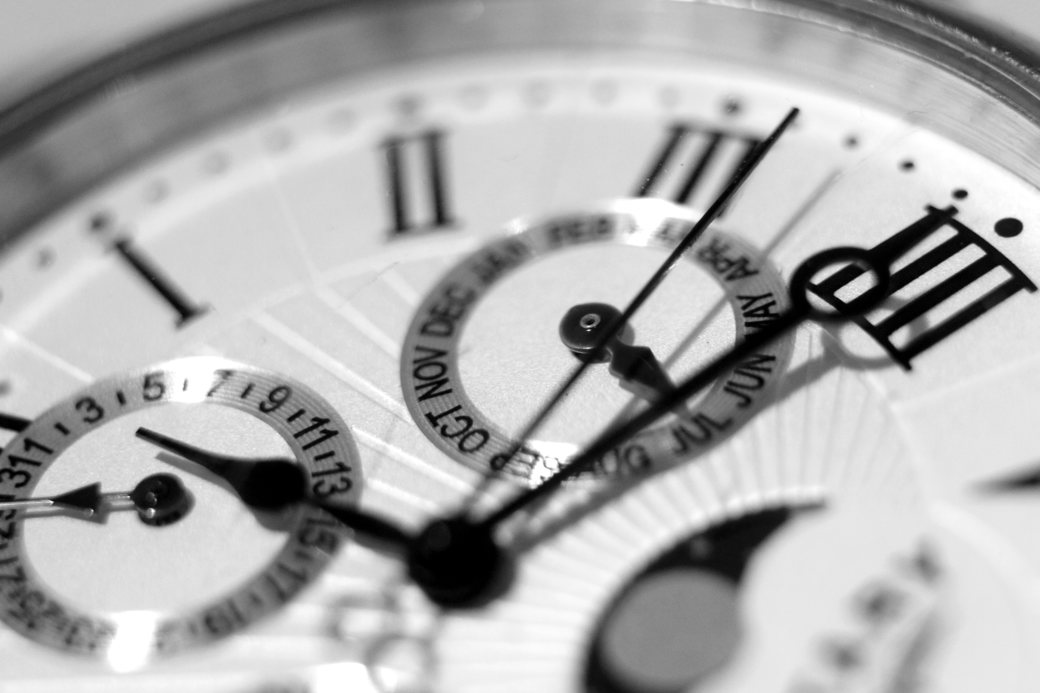 Our history
We are a wholly owned subsidiary of the Kongsberg Group. As a leading Norwegian technology company established on 20th March 1814, the Kongsberg Group can celebrate more than 200 years in business. We can boast the longest industrial history in Norway, with continuous operations since its foundation.
Key events in our history
2019
1 April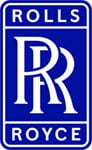 Rolls-Royce Commercial Marine becomes an integrated part of Kongsberg Maritime, further strengthening our position as a global technology leader in the maritime industry.
2018
28 June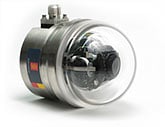 Kongsberg Maritime sells its subsea cameras and harsh environment CCTV systems business to Imenco. Imenco has delivered subsea cameras for more than 25 years to the offshore-, research- and subsea markets.
28 March

Wilhelmsen and KONGSBERG are joining forces to take the next step in autonomous shipping by offering a complete value chain for autonomous ships, from design and development, to control systems, logistics services and vessel operations.
2017
28 March

Kognifai is an open and collaborative digital platform that improves integration between the world of information technology and operational technology to accelerate business transformation in established industries.
9 May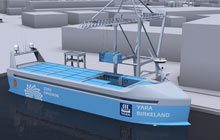 The vessel "YARA Birkeland" will be the world's first fully electric and autonomous container ship, with zero emissions. KONGSBERG is responsible for development and delivery of all key enabling technologies including the sensors and integration required for remote and autonomous operations, in addition to the electric drive, battery and propulsion control systems.
11 July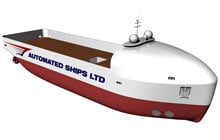 Leading marine Offshore services company, BOURBON entered an agreement with Automated Ships Ltd to build the world's first autonomous, fully-automated vessel for offshore operations, in collaboration with the project's primary technology partner, KONGSBERG. Kongsberg Maritime to deliver all major marine equipment necessary for the design, construction and operation of the Hrönn, including all systems for dynamic positioning and navigation, satellite and position reference, marine automation and communication.
21 August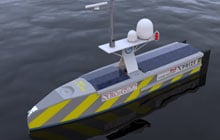 K-MATE, an autonomous surface vehicle control system, the latest marine robotics innovation from KONGSBERG, is to be integrated with SEA-KIT, a new class of Maritime Autonomous Surface Vessel being built by UK manufacturer, Hushcraft, and operated by SEA-KIT International.
2016
01 July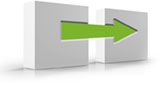 The marine simulator products have been transferred to Kongsberg Digital. This is an internal organisational issue. It has little implications for customers.
2015
25 March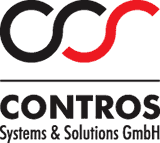 Kongsberg Maritime acquires Kiel, Germany based Contros Systems & Solutions GmbH. The company develops, produces and markets underwater sensor systems to detect dissolved gasses such as hydrocarbons, CO2 and oxygen, as well as pH and total alkalinity (TA).
2014
20 March

KONGSBERG celebrates an incredible milestone. 2014 marks the 200th anniversary of the group. Two centuries of achievement, innovation and transformation – fuelling a journey from a small munitions business to a pioneering global technology provider.
2013
6 December

Kongsberg Maritime acquires Hamburg, Germany based Embient GmbH, an independent provider of engineered services, and state-of-the-art equipment and solutions to the marine, science and engineering sectors.
16 May
Kongsberg Maritime obtains the rights to commercialise the Seaglider™ Technology. Seaglider™ is an autonomous underwater vehicle (AUV) system that rather than using a propeller to move through the water, uses fixed wings and changes in buoyancy to achieve both vertical and forward motion.

The world's first LNG powered cruise ferry MS Stavangerfjord enters service, equipped with four Bergen engines. SmartMotor AS, a company leading the development of permanent magnet technology, acquired.
Our first Environship, Eidsvaag Pioner enters service in Norway.
2012
29 March
Kongsberg Maritime acquires Norway based Jotron Consultas. Consultas delivers loading computers to the maritime sector and onboard maintenance, spare parts/inventory control, budget control, payroll systems and ship-to-shore data communication systems.

World's first gas tugs, powered by Bergen C gas engines driving azimuth thrusters ordered.
2011
5 July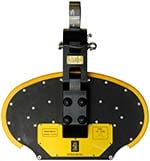 Kongsberg Maritime acquires Norway based Evotec AS. Evotec develops and delivers marine technology handling systems to market segments such as seismic, offshore supply and subsea. Within these niches, Evotec AS has developed systems which have led them to become one of the leading suppliers in the market.
First Environships ordered, NVC 405 cargo carriers for short sea operations powered by Bergen gas engines.
2010
Bergen C26:33 gas engine commences development running.
ODIM ASA, specialists in automated handling solutions acquired.
2009
UT 761 CD Far Samson commences operations with a world record bollard pull of 423 tonnes.
2008
26 September

Kongsberg Maritime acquires Norway based Metasystems. MetaSystems develops Intelligent Electronic Applications in terms of software, sensors and instruments for the maritime and land based industries, with the goal of increasing customers' profitability through optimal and safe operations.
23 September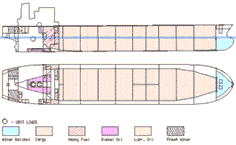 Kongsberg Maritime becomes the majority owner of Lodic AS a manufacturer of software for hydrostatics and stability calculations for ships and floating offshore structures. Full ownership is accomplished in 2013.
1 September
Kongsberg Maritime acquires the Great Yarmouth, UK based GeoAcoustics, a leading manufacturer of sonar seabed survey equipment, including shallow water multibeam systems, side scan sonars and sub-bottom profilers. GeoAcoustics was founded in 1978.

15 August
Kongsberg Maritime and Zhenjiang Marine Electrical Appliances form joint venture. The new company, Kongsberg Maritime China Zhenjiang Ltd., is focused on the delivery of electrical control & distribution units to the marine industry.
UT 787 CD Island Wellserver commences well intervention services.
Scandinavian Electric Holdings acquired.
World's first LNG powered cargo vessel ordered with our propulsion system.
2007
12 December
Kongsberg Maritime acquires the Massachusetts, USA based Autonomous Underwater Vehicle (AUV) company Hydroid, an important manufacturer of compact and light weight AUVs for deep sea survey and mapping worldwide. Applications include both military and commercial use.

Kamewa XF5 high efficiency CPP hub introduced.
2006
Safer Deck Operations and Bergen B32:40 CD diesels enter service on UT 712 L Olympic Octopus.
New Shanghai marine manufacturing centre opens.
PROMAS integrated propeller/rudder launched.
2005
26 September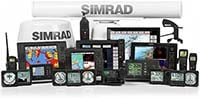 Kongsberg Maritime signs an agreement with the Nordic private equity fund Altor for the sale of the parts of Simrad that develop, manufacture and sell maritime electronics for use in yachts and small commercial vessels. The business will continue under the name Simrad Yachting.
Kongsberg Maritime signs an agreement with the Nordic private equity fund Altor for the sale of the parts of Simrad that develop, manufacture and sell maritime electronics for use in yachts and small commercial vessels. The business will continue under the name Simrad Yachting.
Order placed for 500th UT Design vessel by Island Offshore - a UT 787 CD.
World's largest waterjets - 2.35m dia - complete sea trials on the Techno-superliner.
2004
Kamewa 125Sll waterjets selected to power USS Freedom - LCS1.
Queen Mary 2 enters service propelled four Kamewa Mermaid® pods, plus a package of stabilisers and mooring winches.
2003

Kongsberg Simrad, Kongsberg Maritime Ship Systems and Simrad are merged under one name to form one of the world's largest suppliers of maritime electronics: Kongsberg Maritime. The company is set to deliver reliable solutions for on- and offshore, merchant marine, subsea, navy, coastal marine, fisheries, simulation & training, port & harbour surveillance, wind energy and more.
2002
19 June
Kongsberg Simrad AS and ABB AS have entered a worldwide cooperation agreement on joint marketing, sales and technology development to marine and offshore vessels. As part of this agreement, there will be a transfer of ABB's business related to dynamic positioning to Kongsberg Simrad.
Bird-Johnson fixed pitch propellers selected for French Navy's nuclear carrier,Charles de Gaulle and US Navy carrier Ronald Reagan.
2001
14 November
Kongsberg Simrad acquires KonMap Maritime Systems AS, known for its mapping and marine operation support systems. In recent years KonMap has been partly a sub-supplier and partly a competitor of Kongsberg Simrad, but from now on the two companies will pool their resources and work together to create new and innovative solutions for our customers.
Package comprising Kamewa Adjustable Bolted Propellers and stabilisers selected for UKs Type 45 Destroyer.
2000
Kongsberg Simrad acquires Trondheim, Norway based Navia ASA including the Seatex and Autronica product lines. Seatex is a leading developer and manufacturer of precision positioning and motion sensing systems, while Autronica makes marine sensors and liquid cargo monitoring and control systems.
1999
products including propellers, azimuth units, tunnel thrusters, rudders, steering gear, deck machinery, engines and automation systems, and establish Vickers Ulstein Marine Systems.
Rolls-Royce acquires Vickers plc to form new commercial marine division.
1997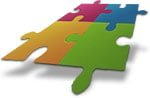 Kongsberg Maritime is formed, consisting of the following companies: Kongsberg Simrad, Kongsberg Norcontrol, Kongsberg Norcontrol Simulation and Simrad.
Five ferries powered by Bergen gas engines commence operation in Norway.
1996
Kongsberg Simrad introduces the SDP - dynamic positioning system and the new IAS - Integrated Automation System concept in the market.

Kongsberg Gruppen (previously Kongsberg Våpenfabrikk - Kongsberg Weapons-Factory) acquires Simrad ASA and renames it Kongsberg Simrad.
Simrad acquires Mesotech a Vancouver based Canadian manufacturer of underwater acoustic equipment. Originally formed in 1973, Mesotech's major breakthrough came in 1982 with the development of the Mesotech 971 Scanning Sonar. This high resolution scanning sonar was quickly accepted by military and offshore oilfield market users and soon became the standard for all remotely operated vehicle (ROV) operations.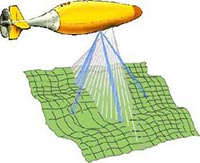 The first prototype Autonomous Underwater Vehicle AUV, HUGIN was demonstrated to Statoil. The HUGIN program started early 1990 with a dual civilian and military application strategy. Since then, the vehicles have been successfully used for a number of civilian and military applications.
1995

Maritime activities are established as a separate business area within the company. The company changes its name to Kongsberg Gruppen (KONGSBERG).
Aquamaster-Rauma joins Vickers and the Kamewa Group is formed.
1993
Kamewa waterjets selected for Singapore Navy patrol vessels.
The world's largest (at that time) Aquamaster units of 7.5MW delivered.
1992

Kongsberg Gruppen reacquires Norcontrol, which was sold in 1987. The Horten, Norway based manufacturer makes ship bridge and engine room systems, marine simulators and radar based vessel traffic systems.
1988
Aquamaster-Rauma Ltd. founded through a merger of Hollming Ltd. Engineering Works and the Deck Machinery Works of Rauma-Repola Oy.
1987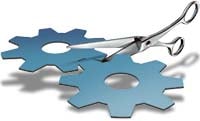 During a turbulent period all civilian business activities within Kongsberg Våpenfabrikk are sold. Kongsberg Albatross is sold to Simrad and renamed Simrad Albatross. Norcontrol is split up into three companies and sold.
1986
Kamewa AB of Kristinehamn, Sweden joins Vickers plc.
1985
At 300 tonnes, the world's largest (at that time) anchor-handling & towing (AHT) winches delivered to A.P Möller.
1982
Kongsberg Albatross becomes part of the Maritime Division of Kongsberg Våpenfabrikk and is later established as a separate company, fully owned by Kongsberg Våpenfabrikk.
1981
Ulstein Propeller introduces the swing-up azimuth thruster concept.
1980
Kamewa Water Jets introduced on the market.
1979
The first ro-ro vessel of NVC design delivered.
Norcontrol delivers the two first radar navigation simulators for use at maritime colleges and training institutions to Tromsø, Norway and Kalmar, Sweden.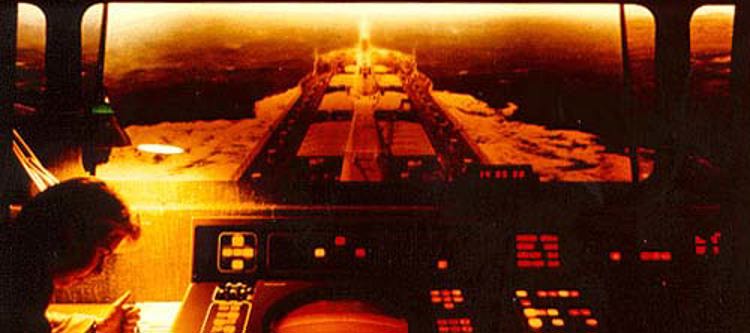 1978
The first Kamewa Rotatable Thruster (Azimuth Thruster) is delivered.
The first engine room simulator for use at maritime colleges and training institutions was delivered to Trondheim, Norway by Norcontrol.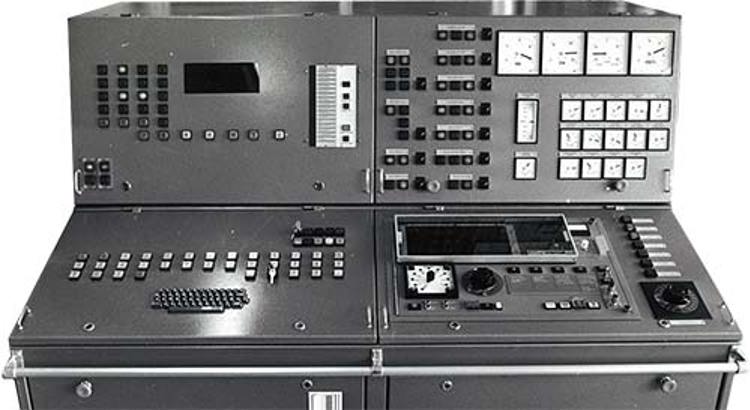 GeoAcoustics was founded in Great Yarmouth, UK with the purpose of manufacturing sonar seabed survey equipment.
1977
Simrad delivers the first HPR - Hydroacoustic Position Reference system and Kongsberg Albatross delivers its first Dynamic Positioning - DP system, both to the same ship. HPR is a system to measure the relative position between a transmitter and a receiver under water. A typical usage is for vessels with dynamic positioning to either measure the relative position between a fixed underwater transmitter or to a mobile under water vehicle such as an ROV.
1975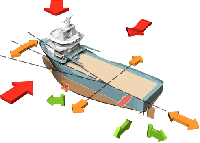 Kongsberg Albatross is founded by Kongsberg Våpenfabrikk in order to develop and deliver Dynamic Positioning systems. The company achieves its first sale this year.
Simrad started the development of HPR - Hydroacoustic Position Reference. HPR is a system designed for underwater navigation. It is based on short, long and super short baseline principles or a combination of these.
UT 704 Stad Scotsman, the first UT designed vessel delivered.
1972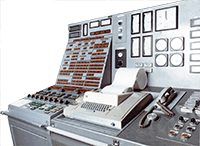 Norcontrol delivers the first DataChief computerised alarm, monitoring and control system for to the tanker M/T Thorholm. The system could consist of three parts: DataSafe for monitoring of the engine room, DataPower for control of the electrical supply and DataTrend for condition monitoring.
1971
The new Marine Laboratory at Kamewa is completed.
First Kamewa waterjet installed in Swedish landing craft.
1970
Bird-Johnson controllable pitch propellers selected by US Navy.
1969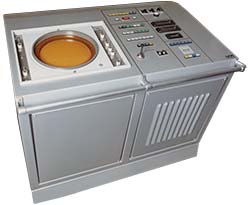 Norcontrol delivers the world's first computerised radar/ARPA system to the cargo liner M/S Taimyr as the result of a research project. This is a marine radar with Automatic Radar Plotting Aid - ARPA capability. The system calculated the tracked object's course, speed and closest point of approach - CPA, to know if there is a danger of collision with the other ship.
1967
June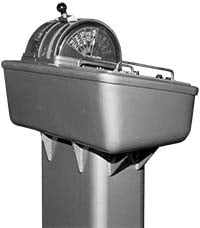 Norcontrol delivers the first main engine remote control system for diesel driven ships. It was installed onboard the M/S Høegh Belle and allowed the duty officer on the bridge to control the main engine without help from people in the engine room. The system was type approved by DNV for periodically unmanned engine room operation - E0 and named AutoChief. Simplified operation, reliable performance and reduced cost made this a huge success.
1966
First Aquamaster Azimuth thruster delivered.
1965
1 April

Norcontrol was founded in Horten, Norway this year. The plan for the company was to provide ship instrumentation within navigation, operation and cargo handling, to increase safety and simplify operation, bringing new technology onboard ships.
Aquamaster deliver their first Azimuth Thruster.
1960
Autronica releases first alarm unit for bearing monitoring of main engines. The MN-2/97 came in 1960-61. Alarm systems together with temperature sensors and pressure transducers became the main maritime products for Autronica far into the eighties, and Autronica was synonymous with Engine room alarm systems in the merchant ship fleet.

1957
6 September

Autronica AS was founded in Trondheim Norway by Kjell Reinskou, Bjørn Rennemo and Per Just Skaret this year with an initial share capital of NOK 10.000. The founders had the idea of making products based on transistor technology. The first product was a local radio tuner for tape recorders.
1950
Simrad's first echo sounder for the commercial fishing fleet came on the market this year.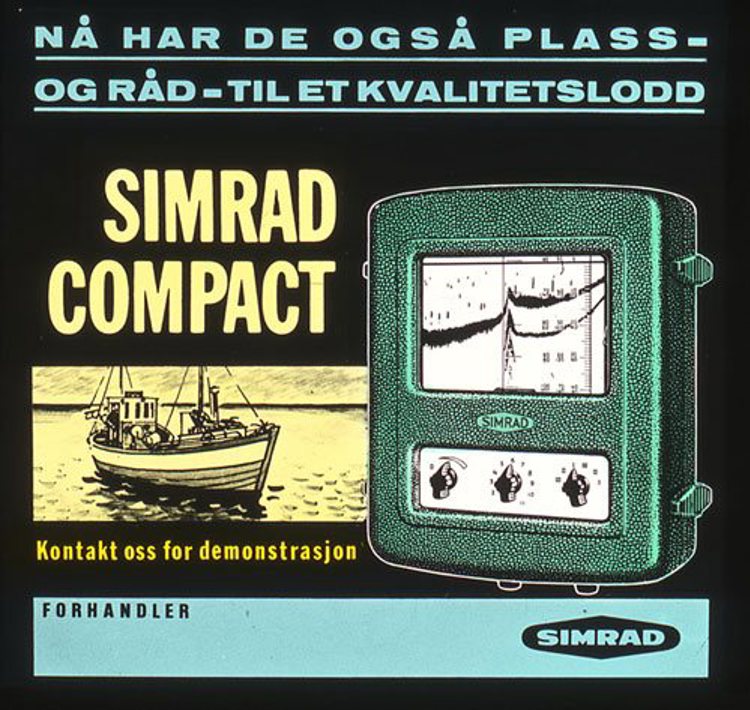 1948
The liner M/S Los Angeles becomes the first commercial application of Kamewa Controllable Pitch Propeller technology - power is 7,000 hp per shaft.
1946
31 December
Simonsen Radio, later Simrad was founded 31 December to manufacture radio telephones for the fishing fleet. Willy Simonsen was one of a handful of Norwegian engineers and scientists who had worked with new warfare technology in Britain during the second world war. Radio communications, radar and sonar were all important research projects at the time, and the engineers brought all their new knowledge and experience back to Norway once peace was established in 1945. Willy Simonsen had spent most of the war designing radio communication equipment, and he wanted to start a company to allow the Norwegian fishing fleet to use the latest technology. The first product was a radio telephone for the fishing fleet. This was our first maritime electronics activity.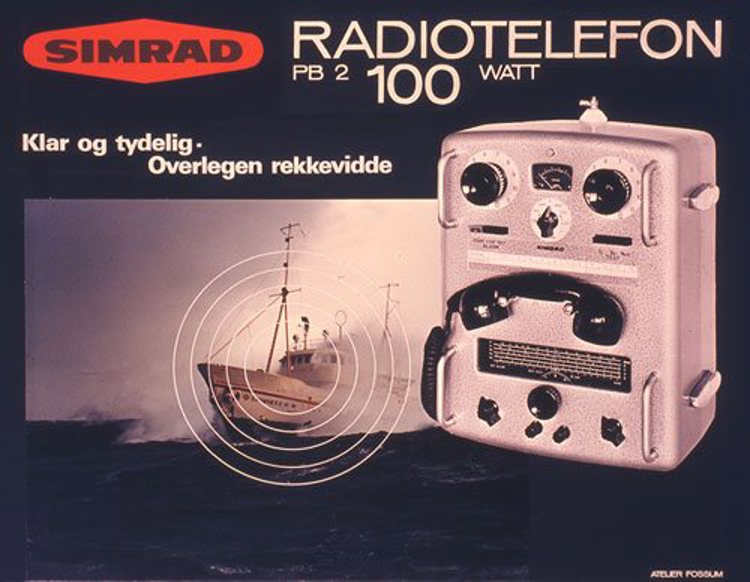 Rauma Winches founded in Rauma, Finland
1945
Production of anchoring and mooring systems started at Rauma in Finland and Brattvaag in Norway.
1941
Kamewa build the first hydrodynamic test station for propellers.
1940
Kamewa Controllable Pitch Propellers enter naval service on 20 Swedish minesweepers.
1937
Inspired by the Kaplan concept Kamewa tests its first hydraulically adjustable controllable pitch propeller. The first controllable pitch propeller of the Kamewa principle is delivered.
Hydraulik, forerunner of Brattvaag, is granted a patent on the first hydraulic winch for engine-powered vessels.
1935
Liaaen (later acquired by Ulstein) develops the first controllable pitch propeller. The Heliston propeller range is introduced with cavitation-reducing blade shapes. Ships include Aquitania, Mauretania, Queen Mary and Queen Elizabeth.
Brown Brothers designs and installs the first successful active athwartship fin stabiliser.
···
···
···
1814
20 March
KONGSBERG established. This was a defining year for Norway. The nation penned its constitution - a crucial step towards independence - and Kongsberg Våpenfabrikk, one of the country's first industrialised factories, was established on 20 March this y ear.