This is Kongsberg Maritime
Kongsberg Maritime supplies technology, equipment and services needed for sustainable maritime operations today and in the future. We enable operations on and below the surface across the world's oceans, in arctic waters, in the busiest ports and in the toughest of weather conditions.
Our Business
The market is highly varied – and covers deliveries to advanced offshore and research vessels, cargo and passenger vessels, large fishing vessels and naval vessels, as well as offshore installations belonging to the aquaculture, oil & gas and wind power sectors.
The technology is developing fast – and includes remote-controlled and autonomous operations, as well as products and systems enabling low and zero emissions. Kongsberg Maritime has a key role in environment-friendly shipping and other sustainable activity in the ocean space, and this attracts customers and partners from all over the world.
Through competence, products and integrated solutions, as well as its world-class service network, Kongsberg Maritime is helping to shape the maritime future. Over 33,000 vessels worldwide sail with equipment supplied by us.
Key figures 2022
Operating revenues

MNOK 11,860

117 offices in

32 countries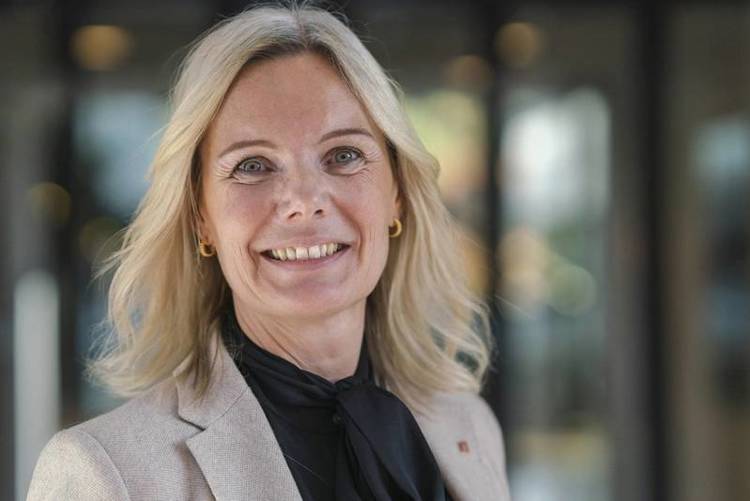 New President of Kongsberg Maritime
In the Fall of 2022, Lisa Edvardsen Haugan was appointed as the new President of Kongsberg Maritime, the largest business area of KONGSBERG. Edvardsen Haugan has long and extensive experience from both the defence and civil business area in KONGSBERG, including the role of EVP Finance at Kongsberg Maritime and Finance Director at Kongsberg Protech Systems. She came from the position as EVP of the Deck Machinery & Motion Control division of Kongsberg Maritime.
Business activities
There is a strong story of many innovations behind the Kongsberg Maritime we know today, originating from the late 1800s. Back then our technology was invented and produced to solve humanity's need for a safer and more efficient operations at sea. Then, as today, we contributed to a profitable ocean economy.
A more efficient propeller, a more precise navigation system, a winch that could pull more fish – our driving force has always been technology development, new ideas and solutions that has created growth for the company. The climate change has added extra motivation; Because with all our knowledge about ships and maritime operations, we now work towards delivering the technology that can lead to a carbon neutral ocean economy.
ENERGY TRANSITION
Leading partner for decarbonisation

Kongsberg Maritime aims to be a leading technology partner in the global pursuit towards decarbonisation of the maritime industry. 2022 has brought confirmation that we are on the right track. Customers and research partners turn to us to solve technology challenges within emerging markets as well as for sustainable improvements of their existing fleets and ocean installations. Kongsberg Maritime's strong market positions is built on domain knowledge and insight into marine operations.
THE RENEWABLE SECTOR
Strong position in the offshore wind market

In Q4 2022, Kongsberg Maritime won a MNOK 300 contract with Pelagic Wind Services to supply advanced vessel design and equipment for two new CSOVs to be built at Cochin Shipyard in India. This contract marked our strong position in the offshore wind market, and joins the series of contracts already awarded in this segment.

The vessels will be designed by Kongsberg Maritime and includes a comprehensive equipment package consisting of a complete hybrid propulsion system driving highly efficient, permanent magnet azimuth thrusters. This is combined with next-generation ship automation, deck machinery, power electrical systems, instruments, bridge consoles and ship monitoring systems.
REMOTE & AUTONOMOUS
Reduced costs and emissions

The Reach Remote project has the impressive ambition of providing a full portfolio of subsea services from a low-emission, cost-effective remote and autonomous fleet. In 2022, Reach Subsea ASA, a provider of subsea services globally, signed a landmark contract with Kongsberg Maritime AS for the construction of the first two in a series of unmanned offshore surface vessels (USVs). The vessels will serve as mobile power banks, data centres and communication modules for underwater ROVs (remotely operated vessels). Both the USVs and ROVs will be operated from an onshore control centre. The Reach Remote project is developed by Reach Subsea jointly with Kongsberg Maritime and Massterly. Reach Subsea expects delivery of the two first Reach Remote systems mid-2023.
THE AFTERMARKET
Upgrading to comply with environmental demands

Wallenius Wilhelmsen is one of the shipowners that in 2022 have chosen technology from Kongsberg Maritime to be compliant with the new Energy Efficiency Existing Ship Index (EEXI). This is achieved through minor upgrades and retrofits of propulsion control systems onboard 45 vessels in their Ro-Ro fleet. This is an example of a volume market win where Kongsberg Maritime can deliver small but future-smart. The upgrades for this specific fleet includes a EEXi power limitation solution. To work towards a zero emissions future, Wallenius Wilhelmsen has set an ambitious target to reduce their fleets carbon intensity by 27.5 per cent within 2030, compared with 2019.

Be compliant with the new Energy Efficiency Existing Ship Index (EEXI)
Technologies for sustainable oceans
We are the ocean expert – defined by our world-leading technologies and people. We provide the technology, equipment and services required to operate at sea in the most sustainable way. We serve the entire ocean space from offshore and research, merchant and fishing to subsea and advanced offshore operations linked to aquaculture, oil and gas, and wind power.
We are shaping the Maritime industry - with our leading global positions within technology we contribute to several international forums. We are an advisor and partner to the UN's Ocean Panel. As such, we advocate for sustainable marine management and healthy and productive oceans across the globe. Driving sustainable change
To protect people and planet by innovating technology today, for a better tomorrow.
Ownership
Kongsberg Maritime is a wholly-owned subsidiary of Kongsberg Gruppen (KONGSBERG). KONGSBERG is an international technology corporation that delivers advanced and reliable solutions that improve safety, security and performance in complex operations and during extreme conditions. The Group is a customer-focused organisation with a worldwide performance culture. KONGSBERG works with demanding customers in the global defence, maritime, oil and gas and aerospace industries. Norways longest industrial history
As a leading Norwegian technology company established on 20th March 1814, the Kongsberg Group can celebrate more than 200 years in business. We can boast the longest industrial history in Norway, with continuous operations since its foundation.